Each Daily Horoscope and Astrology Reading is a connection between the external and internal universes. The natural cycles of nature and cosmic rhythms have an influence on every living organism. The stars are situated outside our own solar system, and they also have a pull upon us. Daily Horoscopes within Astrology is the way we can interpret these influences and show how these systems affect our lives.
Your Birthday Profile can play a significant part in understanding your strength of character.  Your Horoscope can help to bring you to a better understanding of who you are and how you think.  Every Astrological Horoscope is unique and special while everything is in a relationship with everything else and therefore interconnected.
Each Daily Astrology Horoscope reading provides information regarding the powerful influences and insights to help us understand character, capabilities and potential as associated in the Horoscope for that day.
The Daily Horoscope and Astrology Reading is a guide for each day of the year, with inspirations for how to best deal with the day based on astrological positioning. It also includes a description of your personality if you were born on this date, and a daily inspiration.
Our Daily Inspirations at the bottom of each Daily Horoscope and Astrology Reading are meant to provide you with inspiration for the wonder and the joy of life, regardless of how difficult things seem to be at the moment.  We hope they will give you something to think about and make you smile.
Today's Date: Wednesday, August 23rd 2017
July Daily Astrology & Birthday Profiles
Winning is important. It's a day to make your own decisions and show others the way forward…
Today is a day for enjoying group activities where you can experience interaction with others…
Today is the day to actively seek real human contact rather than only observing and critiquing people…
Today is a day to be more diplomatic and avoid the urge to be stubborn. You are going to find yourself pulled between what inspires you and what will make money…
Today is the day to recognize a golden opportunity that will come your way, and be prepared to go for it…
Today, your live-for-the-moment attitude will result in restlessness. It's time to establish your own unique style, and to be independent and original…
Today you will enjoy a battle of wits with another. This will result in you becoming oversensitive to criticism from others and you will feel misunderstood…
Today, you enjoy the thought of power and being in control and will be able to rise above a complication that faces you…
Today is not a day for new approaches. Avoid fad diets and extreme forms of physical exercise…
Today you are full of determination and drive. You feel a strong need to establish an identity and achieve…
Today you will be more successful if you are partners in an endeavor. It's time to be a team player…
Today you are feeling extremely sensitive and vulnerable, though on the surface you appear confident and capable…
Today you will find yourself experiencing more optimism with life. You are very observant, so nothing will escape you today…
Today you show others a natural leadership ability and a confident front…
Today if you wish to feel motivated, you need to be genuinely enthusiastic. A willingness to work hard helps you in your desire to accomplish…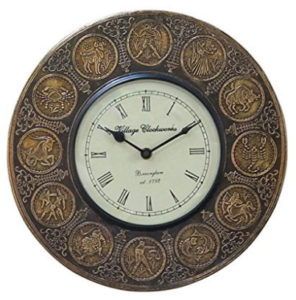 Love Astrology?  You Will Love This:
Decorative Wall Clock Zodiac Astrology Round Metal with Roman Numeral Clock Face 12 Inch
You are an ambitious and emotional person.  Your friends call you caring and friendly…
Hold off making a commitment until you are reasonably sure that your feelings are reciprocated…
Don't lose yourself in your work. Without spending quality time with your mate, family and friends, satisfactory relationships are not likely to result…
If you do not have outlets for your strong feelings, you may become depressed.  A new hobby might be the answer…
Today is the day to do everything possible to avoid arguments and disagreements…
Friendly yet reserved, you find yourself attracted to creative, independent and hardworking individuals who know their own mind…
Try to bring more stability into your life in all forms. The key is structure. You have ideas that can make you money, but tread carefully…
Today, one of your most difficult challenges will be impatience, and only by developing a more persevering attitude can you overcome the inclination you have to act too impulsively…
Today you are dealing with a nervous energy that should be contained…
You have much charm, drive and enthusiasm. Look for ways to focus your energies…
You shine when you are initiating new projects, especially involving people…
Your greatest pleasure comes from sharing with others. By spontaneously giving without expecting people to do things your way, you can avoid any disappointment…
Today, you will experience an inner conflict between wanting to be independent and wanting to be part of a team…
You tend to dream big. It is necessary to apply strong self-discipline and be very focused in order to accomplish them…
You have the ability to shine in a crowd. You are highly entertaining and a great friend…
Today is a good day to practice a daily act of kindness. Find opportunities to give compliments…
August Daily Astrology & Birthday Profiles
Today's Date: Wednesday, August 23rd 2017
You are going to find yourself caught up in the middle of a situation filled with controversy…
Today, you may feel overly impulsive and might want to change your physical surroundings…
Your never-ending curiosity will lead you to think about a strange, out-of-the-way place…
Learn to channel your rebelliousness to a more constructive direction. Cultivate objectivity where there is chaos…
Stop making rash decisions and changing your mind at every turn. Let up a bit on the demands you make of yourself and others…
You are quickly becoming bored with the mundane. There is a fear that you will retreat into a fantasy world to get your kicks…
You are expecting too much of others. Others cannot live up to your personal standards or fulfill your personal needs…
You are having a hard time climbing the difficult road to success…
You are feeling restless and impatient. You need to be continually searching and investigating in order to learn and inspire your spirit to break away from the rigid order of limitation…
Although you rely on your common sense, an ability to see the numerous sides of every situation seems to be bringing about doubt and confusion…
You are at your best when you are not out to impress anyone, when you forego status symbols and live quietly in order to concentrate on your chosen specialty…
Friendly and sociable, people tend to admire you and they give great weight to what you say…
As you find yourself drawn to precarious situations, you will find your energy levels out of balance…
Your goal has been to achieve the impossible. You have been taking on too much responsibility lately as you have a need for control…
There is a touch of flamboyance and a definite flair for the dramatic in your dealings today…
Zodiac Earrings, Zodiac Jewelry, Astrology Jewelry, Birthday Earrings, Birthday Gift, Zodiac Sign, Horoscope Jewelry
Others may regard you as a genuine mystery because of the apparent contradictions in your personality…
It is important to keep a detached viewpoint and to have a positive belief system if you want to manifest miracles in your life…
You seem to be restless for action. Intelligent and mentally quick, you have a need to express your thoughts and ideas…
If you want to have things your way, you may need to develop a less dominant character…
Since you know the value of things, you will be able to overcome obstacles through determination and perseverance…
You like to do things that attract attention. Your mind is restless and on the lookout for new subjects to study and new questions to ask and you are looking for answers…
Your mind is full of ideas and you are keen to realize your thoughts and plans. You may need to overcome a tendency to be restless and impatient…
Any decisions that you make today, make them carefully rather than acting hastily. Your restlessness has you thinking of trying many different kinds of experiences…
Don't create a problem where none exists. Try to simplify as much as you can in your own life today, and avoid much of the endless complexity which you not only discover but so often create…
Today, keep a balance between your need for independence and the needs of others. Your comments are well meant…
Your natural charisma will magnetize people towards you. Unfortunately, it's a day of disappointments when others fail to live up to your high ideals…
There will be a battle of wits happening sometime today and you will take pleasure in asking subtly provocative questions.
With your sharp mind and quick wit, you'll have a day of clever quips and swift comebacks…
You've come to realize that it's actually hard work, not luck, that makes it possible for you to succeed in life…
You may need to learn faith and decide whom you can trust. By cultivating self-confidence, you are more able to take care of your needs…
It's a day to shine and inspire others with your many skills in solving difficult problems…
---
Also published on Medium.