Love is the most powerful force in the Universe. A simple, 3 card Tarot Card "Love" spread can help guide you through this complicated emotion.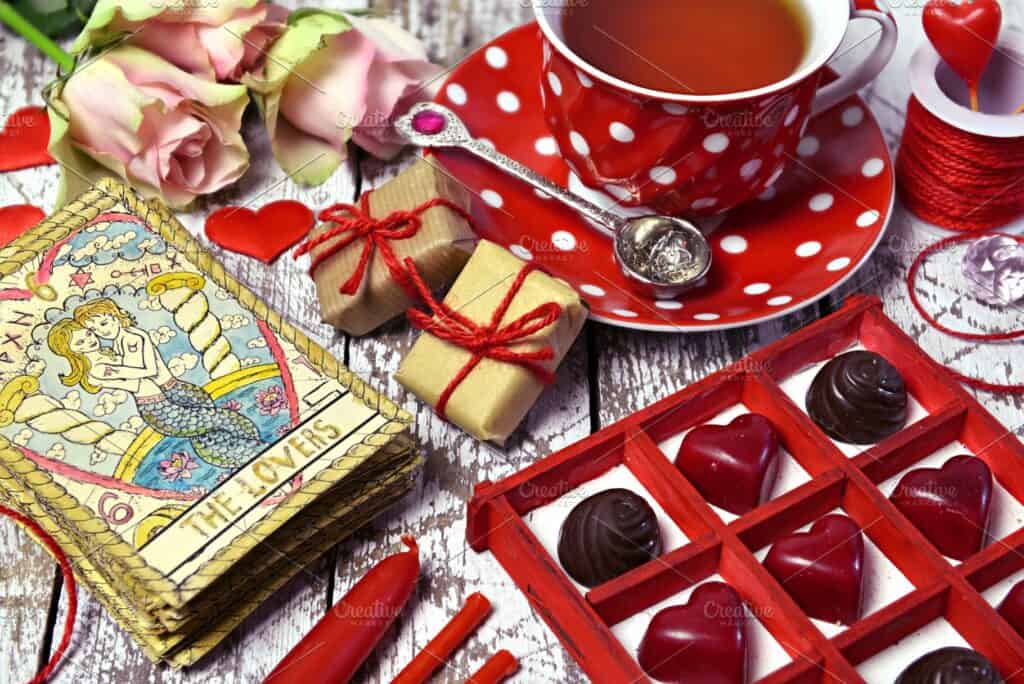 Each symbol on the Tarot Card has a specific meaning when it comes to Love. Take the time to look each of the cards over yourself and decide what it means to you and your particular romantic situation, then merge your ideas with those provided through the reading. For many, the most distressing times are those when we are confused about how we feel about a relationship we are in, which direction we want to go, or unsure of what decisions or choices we should make, and in such times it can really help to receive some guidance by consulting our Love Tarot reading.

The three Tarot Cards (below) were shuffled when you clicked on this page. This gives you your individual reading, specifically for you.
Click each Tarot Card to reveal it, then click again to see the description. Match to the Card Position Below. Enjoy!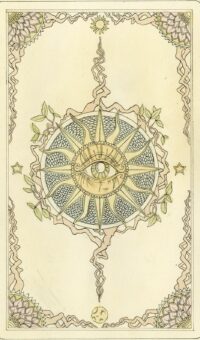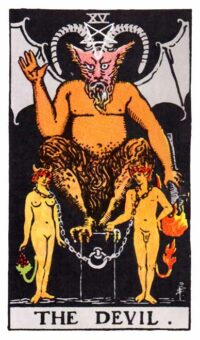 When the Devil card appears, the angels and guides are pointing you to a very powerful spiritual lesson. The Devil card shows us a habit or way of life that's dragging us down. It could be a roller-coaster relationship or dead marriage. It's too scary to imagine life without it. Rather than break it off you prefer to suffer because it's "the devil you know." This card appearing is a signal that there is indeed something that is impeding your success. It could be a health matter, it could be a person. The battle you must fight isn't with another person but with yourself, or what we call "our personal demons."
The Devil Card, in Reverse, represents Freedom! Sometimes, when we think we're blocked, we're really just tense and letting ourselves relax can help us think of different ways around bad situations. It is a time of liberation and a gradual process of waking up. We are being liberated from our worst fears. This card represents the termination of destructive behavior. A reversed Devil reminds us that any situation that may seem to be trapping us is an illusion. We always have options. Help is always available. This Reversed Devil brings a moment of clarity, peace, and a time for self-improvement.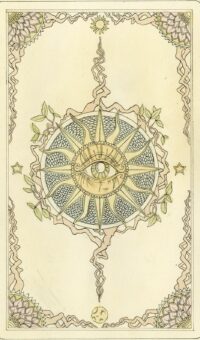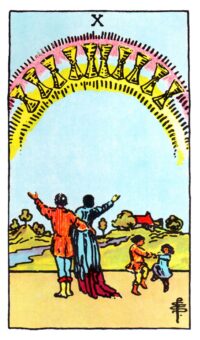 The Ten of Cups represents happiness drawn from all of the many ideas you have had, and is a symbol of what your emotional life is when you are at your best. The feelings represented are all the good that is within the reach of each of us. When you see the Ten of Cups, know that an end to the hostility in your life is coming. If there is fighting around you, it will cease. If you are at war with yourself, you will find peace. The rainbow across the top of the Ten of Cups is an ancient symbol of peace and prosperity. Leprechauns hide their gold at the end of the rainbow, and it will be available to you in your future.
When the Ten of Cups Reversed appears, it is showing that all the positive energy you have is either blocked or it is being misdirected. When the pressure of the blocked energy is rising but doesn't have an outlet, it may be released explosively. Make an extra effort to be positive so it doesn't get to that point. Emotional conflicts can steal your Joy. If you can control your emotions and don't let the negative energy get the best of you, these cups are full of gratitude, peace, and love, and they will bring reconciliations, lasting marriages, and sincere friendships.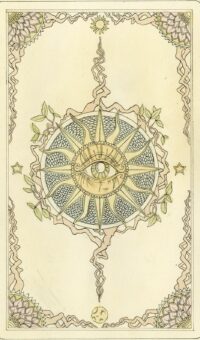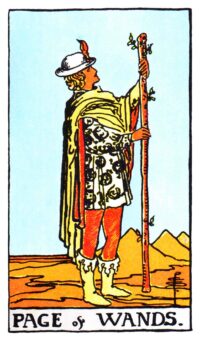 The Page of Wands represents your free spirit, inspiration, discovery and limitless potential. The Page of Wands is very confident of his success. We can see this strong self-assurance in the feather he weathers in his hat. The feather is a symbol of success, achievement and accomplishments. This Card often indicates that you are planning on starting something new, or entering a new phase in your life. The Page stares up at his Wand in awe and respect. This suggests that you may be looking up to someone in a superior position to you and are eager to learn from them. The Page of Wands represents someone wanting to sweep you off your feet. He will be a whirlwind force in your life.
The Reversed Page of Wands can make excuses for this and excuses for that till we are all blue in the face listening to him. He just never seems to be ready for anything. The Page of Wands Reversed foolishly takes risks and can become dangerously reckless. He takes little time to notice anything, and has poor judgment. He drifts in and out of love on a regular basis as soon as he gets bored. He is a charmer and will promise you the world to get his way, When it comes to News, this Reversed Page can bring bad news concerning your plan of action. Delays, setbacks, or cancellation of travel plans will cause you frustration and impatience.
3 Card "Love" Tarot Card Spread Positional Meanings:
The Three Card Spread is special and unique in many ways. Unlike the others, three cards do not solve only one fixed purpose. Each card and position can have different meanings. Every explanation depends on the motive behind the reading and the question bothering the user.
The 1st Card: The first card reveals the past energies that are affecting your current situation. It may also reveal what may be blocking or helping you move forward in the situation. The information revealed here can help you learn from your past.
The 2nd Card: This card represents the events that are currently taking place in your life. It is the energy of the present moment. If this card shows negative energy, you are probably going through a transformation period where you will learn to overcome the obstacles revealed to you.
The 3rd Card: This card represents the outcome of the situation. The information revealed may or may not be what you were looking for, but it is the most likely outcome given the circumstances as they are and the course you have been taking up to now.
Also Check Out the Free "Money" Tarot Card Reading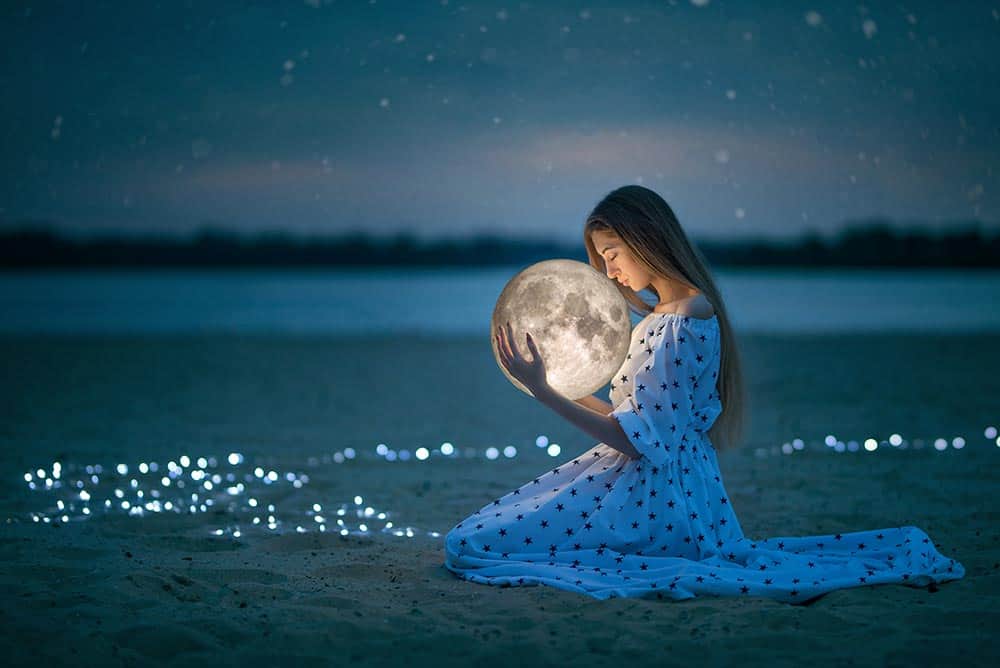 Tarot Card Love Readings
When you have clarity of mind, you feel more relaxed. Decisions and choices can then be made with good judgment. Consulting the cards may help you to get in touch with your intuition, your best guide when it comes to making those difficult choices and decisions. Begin by engage in activities of which you will feel proud. As for leading a life that is meaningful, everyone's definition of "meaningful" varies. For you, it may be nothing more than sitting on a beach on a Saturday afternoon and enjoying the beautiful scenery. In general, though, leading a meaningful life should essentially be doing something that you would feel proud of later on.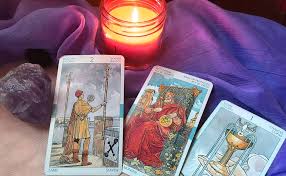 Tarot Card Love Reading – Your Love Life
This reading is done through a 3-card spread with each card conveying a meaning that is somehow related to your Love life. The Love Tarot reading is used by people who really have doubts about the course their life is taking. If you are single, you can ask if you are going to have success in an upcoming relationship. For those who are in a couple relationship, you can ask if your relationship will last and if your partner is really sincere with you. The Love Tarot cards extend their support by suggesting to you, positive ways in which you can revamp the situation as required.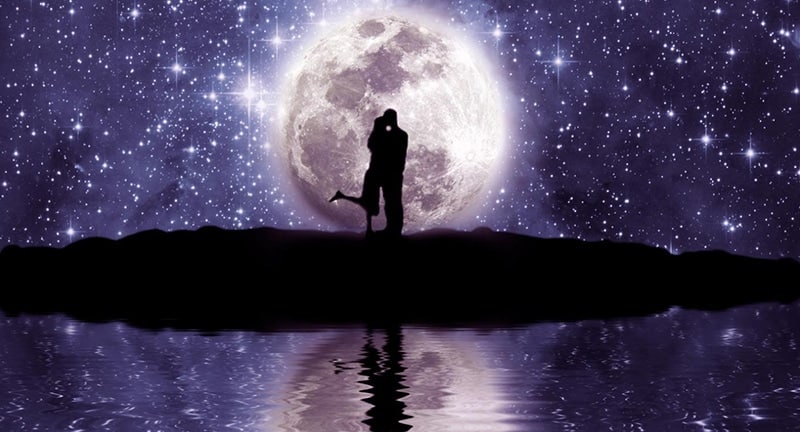 Tarot Card Love Reading – The Reading
Clear your mind! Don't pick cards if you are struggling with depression or just had a breakup. Calm yourself with yoga or meditation or a hot shower, whatever works for you best. You could also use scented candles or incense to keep your heart calm. Try to relax your body and quiet your mind. Allow your thoughts to come and go for a while without holding on to them. Make sure you take enough time to relax and compose yourself before you begin to select the cards. You will be amazed at the difference it makes. When you are ready, the three cards in this Love Tarot Reading will give you the guidance you are seeking.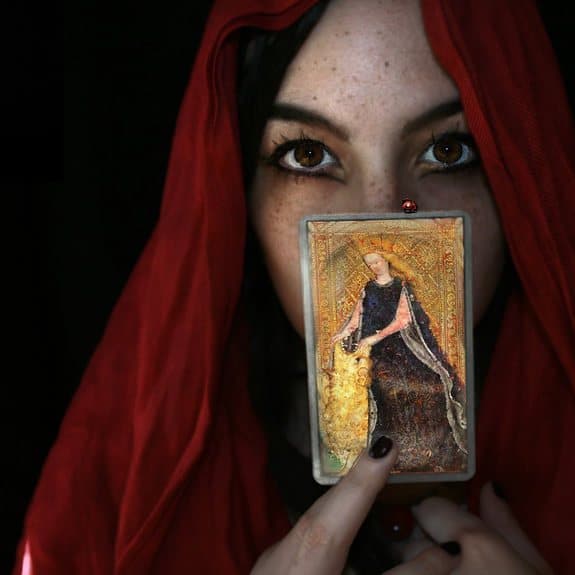 Tarot Card Love Reading – Accepting the Reading
Treating Tarot dismissively is disrespectful to the Universe or Spirit realm that is communicating to you through the cards. You might not agree with the obstacles the world throws in your path, but the Universe always has your back. If you are able to approach the deck with an attitude of reverence and an understanding that you might not like what you see, then it is possible to get good insight from a Love reading you receive for yourself.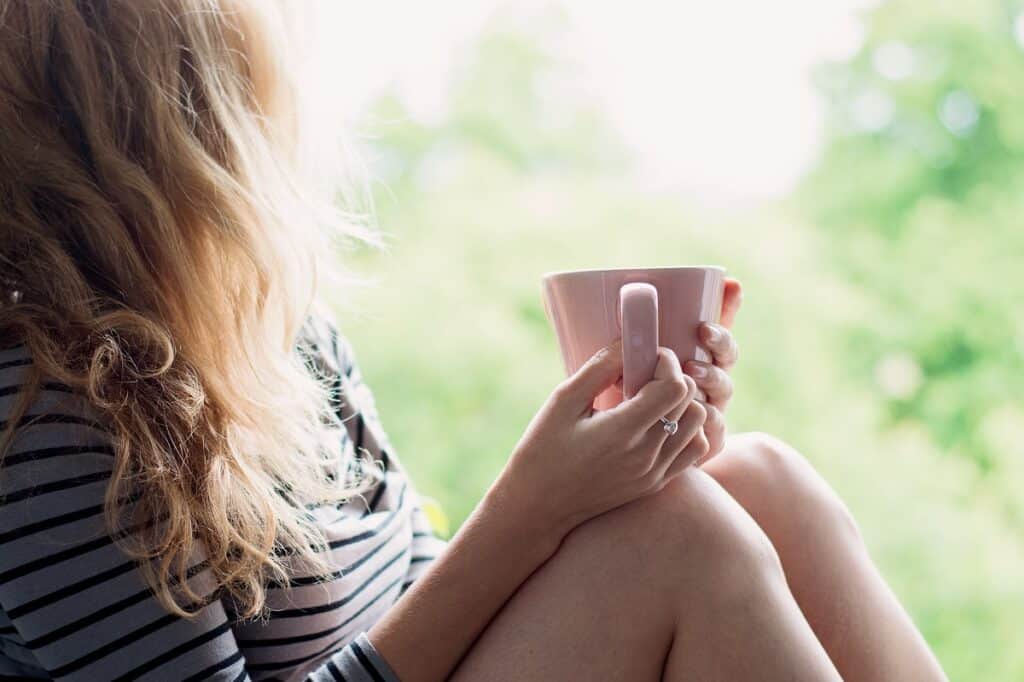 Tarot Card Love Reading – Conclusion
If you don't understand your answer or are wondering what comes next, sit with the answer the cards gave you the first time, no matter how complicated a riddle it may be. Make a note of the cards or take a picture. Return to it as you move through the days. Eventually, when your third eye is open clearly, their full Wisdom will unfold.
Read More: The 10 Tarot Love Cards