Love is the most powerful force in the Universe. A simple, 3 card Tarot Card "Love" spread can help guide you through this complicated emotion.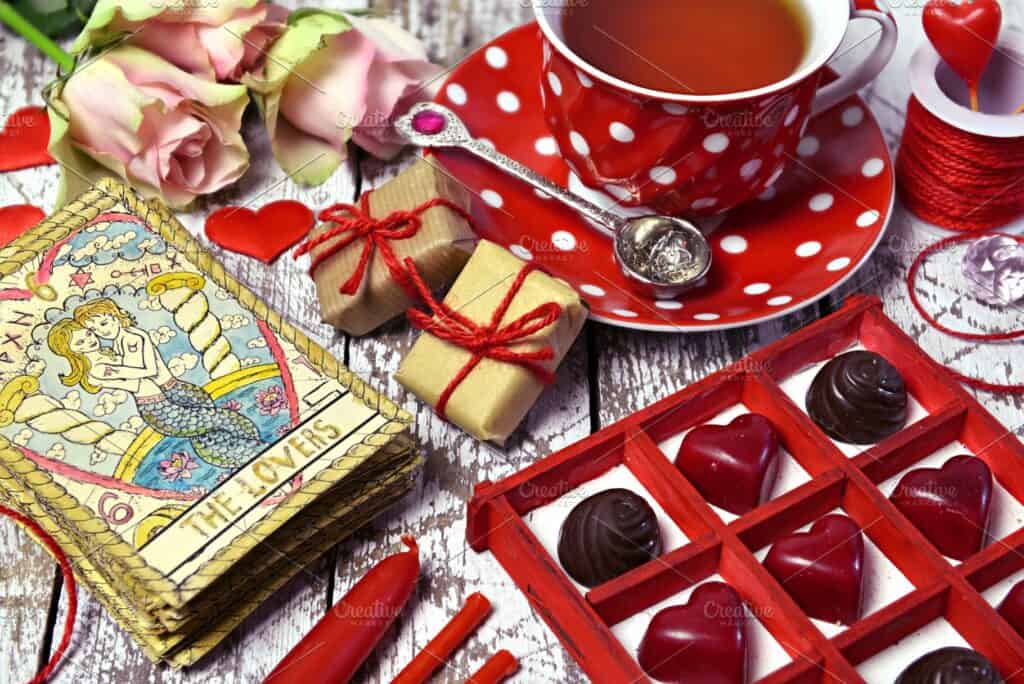 Each symbol on the Tarot Card has a specific meaning when it comes to Love. Take the time to look each of the cards over yourself and decide what it means to you and your particular romantic situation, then merge your ideas with those provided through the reading. For many, the most distressing times are those when we are confused about how we feel about a relationship we are in, which direction we want to go, or unsure of what decisions or choices we should make, and in such times it can really help to receive some guidance by consulting our Love Tarot reading.

The three Tarot Cards (below) were shuffled when you clicked on this page. This gives you your individual reading, specifically for you.
Click each Tarot Card to reveal it, then click again to see the description. Match to the Card Position Below. Enjoy!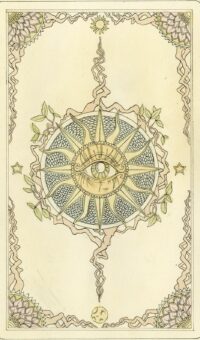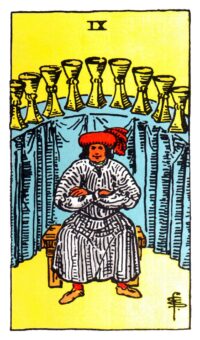 The Nine of Cups represents the comfort and satisfaction of you bringing your goals to fruition. It's about having enough – even a bit more than enough – of all the good things in life. Your attention causes whatever you focus on to grow. If you focus on problems, you'll have more problems. If you pay attention and show gratitude for the positives in your relationship, you'll have more things to feel good about. Your energy will draw to you a wonderful, compatible person like a magnet. Be the best version of yourself and you will easily attract the best partner for you.
When the Nine of Cups Reversed appears, it tells you that it is time for you to stop placing a value on all your blessings, and instead pay attention to the quality of your life. The true treasures lie in your relationships with your family, friends, and community. Reversed or upright, this card is a very good omen for your love life. Existing relationships are likely to deepen, become sweeter and more meaningful, at very deep levels. This card reminds you to be grateful for your blessings, and to appreciate and enjoy the good things in your life.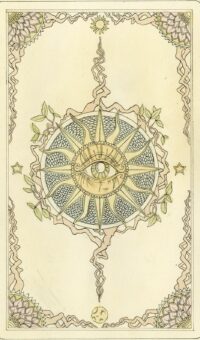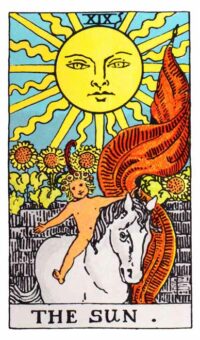 When you see the Sun appear in your reading, smile, for it is the most positive card in the Tarot deck. It represents life and energy. It also indicates fun and vitality, warmth and positivity. The Sun is an image of happiness and optimism. The Sun is shining on you! This day is the summer of your life, and the Sun embodies success, abundance, and an optimistic feel to the situation that cannot be matched. Success is not just probable, it is inevitable. There is confidence aligned with this bright picture. Like the child on top of the horse, you are on top of the world, and victory is yours for the taking.
The Sun Card, when Reversed, points at an unhealthy situation where the soul is suffering and is not able to break free. Where everything was illuminated, within reach, and satisfying, we will now find darkness, obstacles, and disputes. The Sun in the reversed position is a sign that you may experience setbacks and feel clouded about your direction. You may have to work harder to bring your "freedom" about. Still, this is an excellent and important time to experience different things, things which are out of your usual routines. The Sun is about vitality, freedom, joy, and self-expression. Stay focused on your blessings.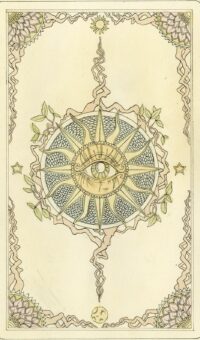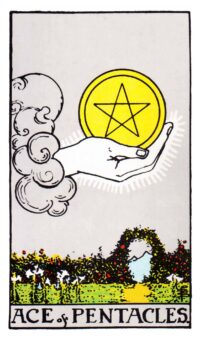 The Ace of Pentacles represents new opportunities for career and financial growth. The Ace of Pentacle is a very reassuring card for it indicates good health and a strong and fit body. The Ace suggests that investment in new projects or ventures at this stage will be especially financially rewarding and yield a good return. Because the imagery depicts a walled garden environment, it may suggest that your prosperity will be found close to home or in your own back yard. The presence of this Ace in a relationship suggests that financial matters are important for your acquisition of a comfortable lifestyle and surroundings.
The Reversed Ace of Pentacles can represent that time when the long period of saving is over and the time has come to withdraw or release the money in order to purchase an object that you desire. If you are in the process of investing your savings, buying into a partnership or business venture, then you would be advised to not rush or be forced into anything. The more you worry about money the more scarce it becomes. Financial issues could be causing problems in your relationship. This card can often suggest that partners are chosen based on their material or financial status alone. Attraction may also be purely physical.
3 Card "Love" Tarot Card Spread Positional Meanings:
The Three Card Spread is special and unique in many ways. Unlike the others, three cards do not solve only one fixed purpose. Each card and position can have different meanings. Every explanation depends on the motive behind the reading and the question bothering the user.
The 1st Card: The first card reveals the past energies that are affecting your current situation. It may also reveal what may be blocking or helping you move forward in the situation. The information revealed here can help you learn from your past.
The 2nd Card: This card represents the events that are currently taking place in your life. It is the energy of the present moment. If this card shows negative energy, you are probably going through a transformation period where you will learn to overcome the obstacles revealed to you.
The 3rd Card: This card represents the outcome of the situation. The information revealed may or may not be what you were looking for, but it is the most likely outcome given the circumstances as they are and the course you have been taking up to now.
Also Check Out the Free "Money" Tarot Card Reading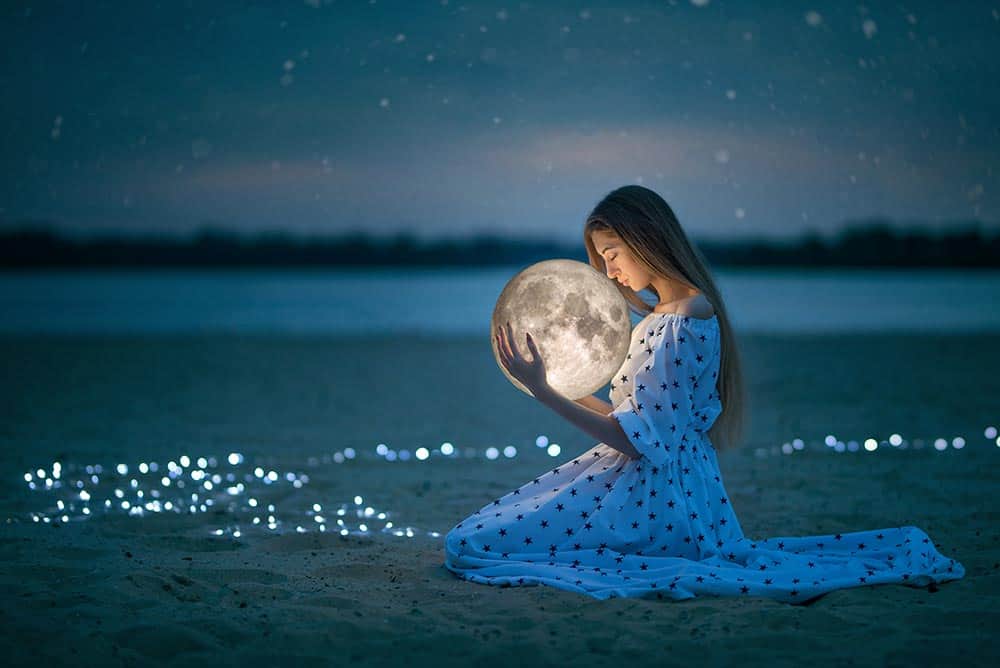 Tarot Card Love Readings
When you have clarity of mind, you feel more relaxed. Decisions and choices can then be made with good judgment. Consulting the cards may help you to get in touch with your intuition, your best guide when it comes to making those difficult choices and decisions. Begin by engage in activities of which you will feel proud. As for leading a life that is meaningful, everyone's definition of "meaningful" varies. For you, it may be nothing more than sitting on a beach on a Saturday afternoon and enjoying the beautiful scenery. In general, though, leading a meaningful life should essentially be doing something that you would feel proud of later on.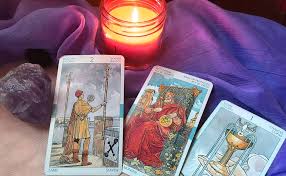 Tarot Card Love Reading – Your Love Life
This reading is done through a 3-card spread with each card conveying a meaning that is somehow related to your Love life. The Love Tarot reading is used by people who really have doubts about the course their life is taking. If you are single, you can ask if you are going to have success in an upcoming relationship. For those who are in a couple relationship, you can ask if your relationship will last and if your partner is really sincere with you. The Love Tarot cards extend their support by suggesting to you, positive ways in which you can revamp the situation as required.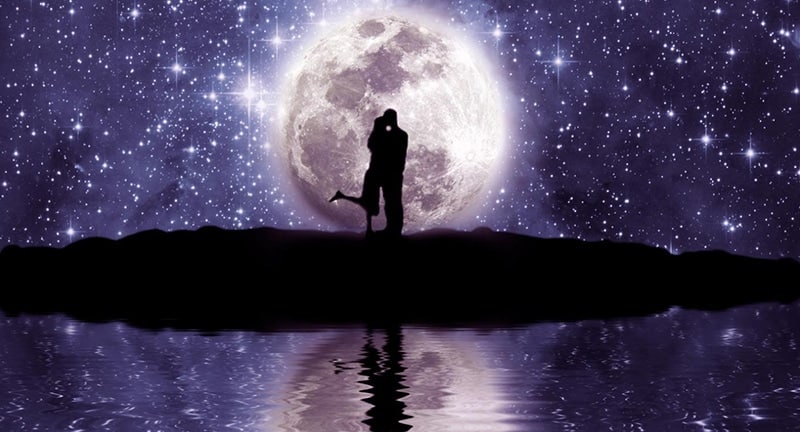 Tarot Card Love Reading – The Reading
Clear your mind! Don't pick cards if you are struggling with depression or just had a breakup. Calm yourself with yoga or meditation or a hot shower, whatever works for you best. You could also use scented candles or incense to keep your heart calm. Try to relax your body and quiet your mind. Allow your thoughts to come and go for a while without holding on to them. Make sure you take enough time to relax and compose yourself before you begin to select the cards. You will be amazed at the difference it makes. When you are ready, the three cards in this Love Tarot Reading will give you the guidance you are seeking.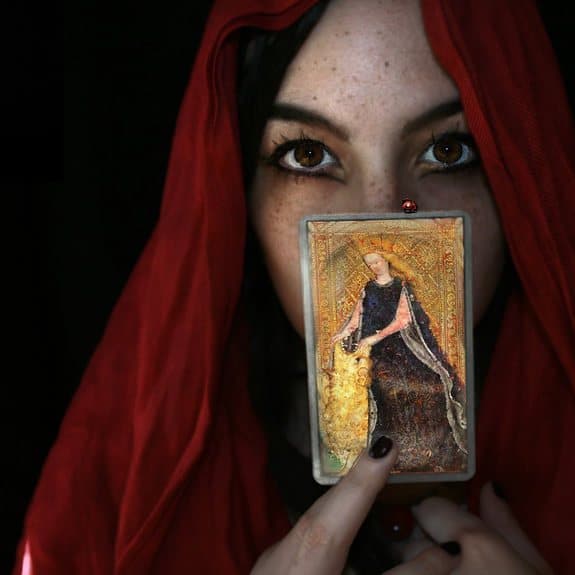 Tarot Card Love Reading – Accepting the Reading
Treating Tarot dismissively is disrespectful to the Universe or Spirit realm that is communicating to you through the cards. You might not agree with the obstacles the world throws in your path, but the Universe always has your back. If you are able to approach the deck with an attitude of reverence and an understanding that you might not like what you see, then it is possible to get good insight from a Love reading you receive for yourself.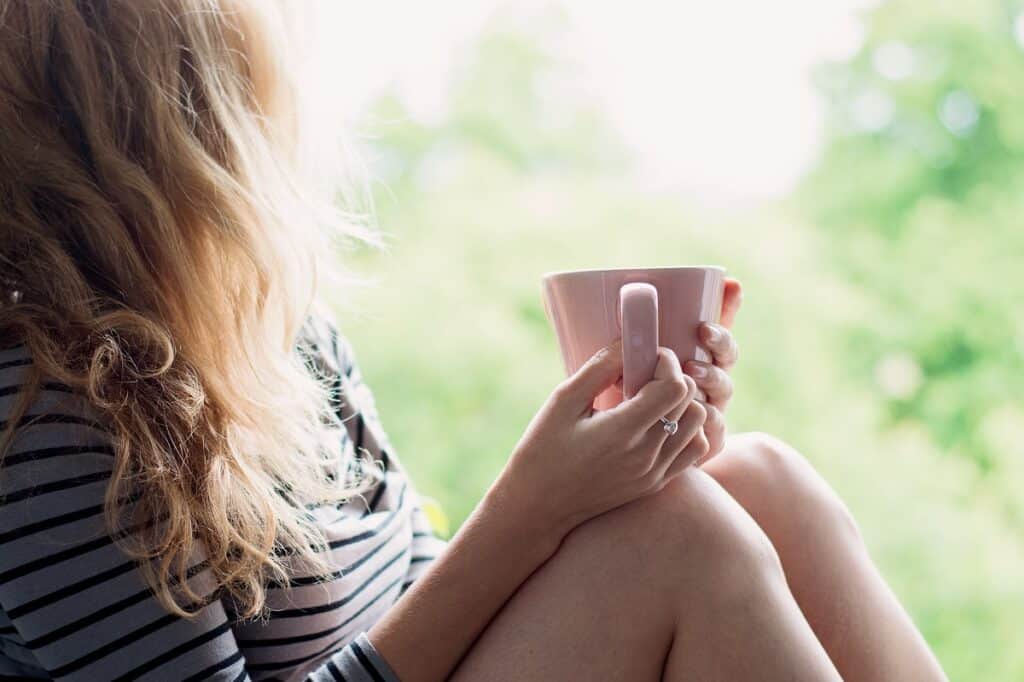 Tarot Card Love Reading – Conclusion
If you don't understand your answer or are wondering what comes next, sit with the answer the cards gave you the first time, no matter how complicated a riddle it may be. Make a note of the cards or take a picture. Return to it as you move through the days. Eventually, when your third eye is open clearly, their full Wisdom will unfold.