Money and careers are huge influences in our lives, whether we like it or not. Discover how the universe will influence your efforts to put your money and career in a stable place with a free, 3 card Tarot spread. The three Tarot cards (below) were shuffled when you clicked on this page. This gives you your individual reading, specifically for you.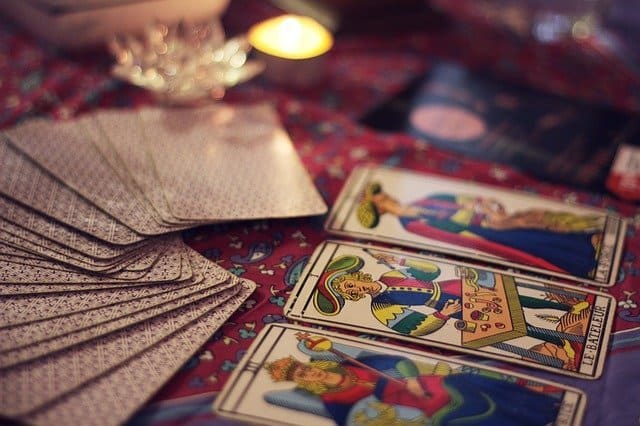 Money can't buy happiness, but it sure does make life easier! You might be wondering what is standing in your way and preventing you from building wealth. A Tarot Card reading on Money and Finance can't tell us exactly what will happen in the future, but it can certainly give us a glimpse into what lies ahead while inspiring us to propel ourselves forward through life with financial success, love, happiness and gratitude.
If things are not so great in your work life, it means that sadly, it easily can slip into other areas – whether we're taking it out on our loved ones, or stressing about finances. Used as a career directive, this reading will help you gain clarity on what you are doing in your professional life and whether you are doing it right or not and when success may come your way.
Click each Tarot Card to reveal it, then click again to see the description. Match to the Card Position Below. Enjoy!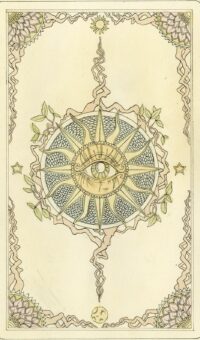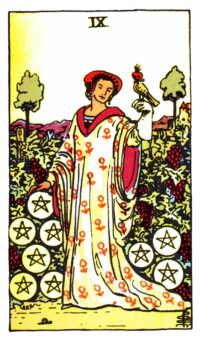 The Nine of Pentacles indicates financial abundance and independence, luxury and self sufficiency. The Figure in the Nine of Pentacles has kept her feet firmly on the ground and steadily and quietly arrived at her destination. Her hard work has come to fruition. This card can suggest that you have made many sacrifices or denied yourself freedom and spontaneity in order to achieve your goal or dream. You are successful within your own right so you may as well show it externally, too. Looking after yourself is key and trips to the Health Spa and investing in regular massages and manicures are all part of the rewards. Relationships are healthy.
The garden walls that acted as security in the Upright Nine may now seem like a prison as your very wealth and success have robbed you of freedom of movement and social associations. When the Nine of Pentacles falls into Reverse, you may not have the tenacity, determination or staying power to follow your plans or goals through to completion. There is a danger of abandoning your long-term plan in favor of a get rich quick scheme that is bound to fail. Where relationships are concerned, you may be chasing a certain lifestyle and seeking prosperous partners in order to access more wealth. Also, you may be working so hard, you do not have any time for meaningful relationships.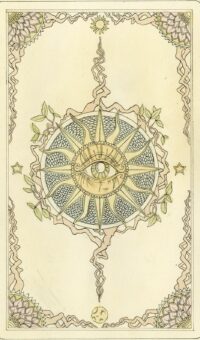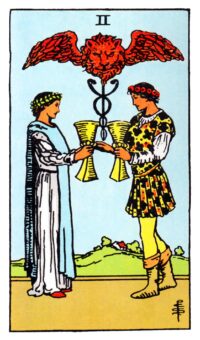 The Two of Cups refers to something quite positive, for it is one of the most auspicious cards in the tarot for relationships, whether romantic, business or otherwise. As this card traditionally describes a romantic relationship, it also includes the idea that all good friendships are based on a natural affinity and a deep mutual understanding. Given that the Two of Cups depicts a man and a woman in a wedding ceremony, it indicates a marriage, a wedding proposal, or an engagement. Choosing the Two of Cups confirms that things seem to be going well. You should be feeling loved, cared for, and content.
When the Two of Cups Reversed shows up, it represents a balance that is lost. You may be finding that certain small details that were not problems before are coming into play, signaling that someone you have a connection with, may have resentments. The Two of Cups Reversed is trying to tell you to really be on your guard as things may not be as they seem There are actions you must take to bring back the balance. Keep your expenses under control. In a romantic relationship, you must be willing to take off the mask and let yourself be exposed and experience the good qualities of your partner without any hesitation.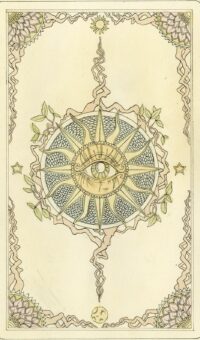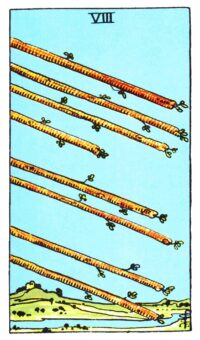 The Eight of Wands indicates major changes, movements and internal alignment. In this card we see eight Wands hurtling through the sky as they cross water from one body of land to another, so travel is obviously suggested here. The skies are bright and clear. Each of the Wands depicted symbolically represents a project, issue, job or demand that the Wands are famous for collecting. The Eight of Wands brings Speed, it brings Action, it bring Movement. Let us hope you got some good sleep and are eating well for you are going to be very busy. If you are single, then you will find yourself suddenly in big demand.
When the Eight of Wands Reversed appears, it has you feeling very frustrated and irritated. You know what you want and where it is but no matter what you do, you just seem to continuously run into problems of one sort or another. People accuse you of being impulsive or too hasty, which will make you want to explode. You are going nowhere fast and precious time is ticking by. The Eight of Wands Reversed may suggest having to say goodbye to your holiday romance as your charter plane takes off, returning you home and to your normal life once again.
3 Card "Money" Tarot Card Spread Positional Meanings:
The Three Card Spread is special and unique in many ways. Unlike the others, three cards do not solve only one fixed purpose. Each card and position can have different meanings. Every explanation depends on the motive behind the reading and the question bothering the user.
The 1st Card (The Past): This card represents your situation—why you're currently in the spot you're in. It often symbolizes a person or relationship in your life that has influenced your question.
The 2nd Card (The Present): This card represents the current problem, often as a direct result of the situation. Pay close attention to this card as it may be trying to show you things that you've previously overlooked.
The 3rd Card (The Future): The final card in a three-card spread provides guidance to face and overcome your issue. It may provide options you hadn't considered or resources and people you'd overlooked.
Try also the Free 3-Card "Love" Spread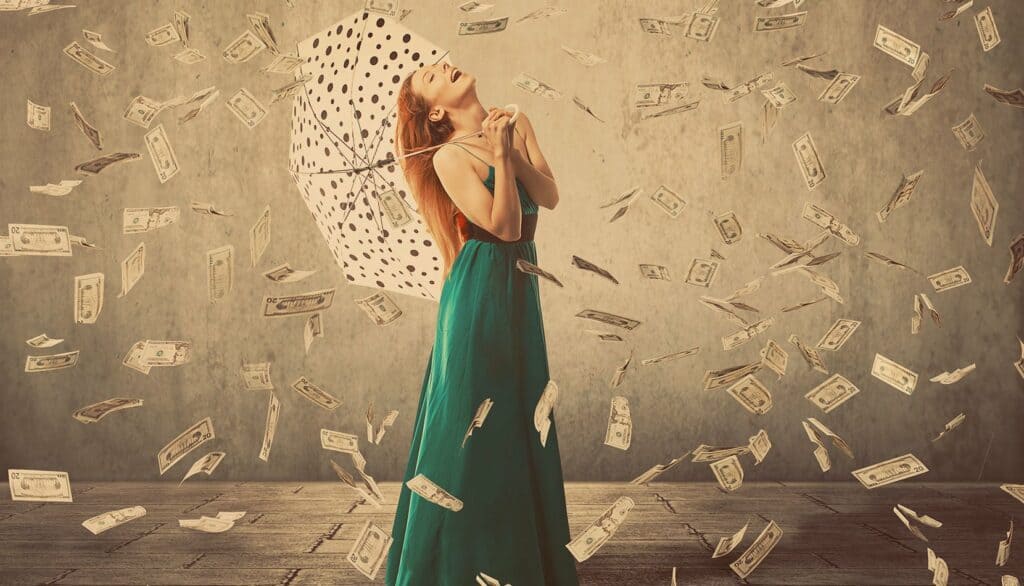 Money Tarot Card Readings
What can you do to avoid financial struggles? Everything that you wish to know with respect to your money matters may be explained through a detailed Financial Tarot Reading. Start by focusing on that one finance-related question and keep it in your mind. Focus for a moment and think about your current situation, visualize it carefully and ask for detailed and helpful answers. You may learn how your financial situation developed in the past, your current situation, and how your future in this aspect may look.
What Tarot Cards Indicate Wealth?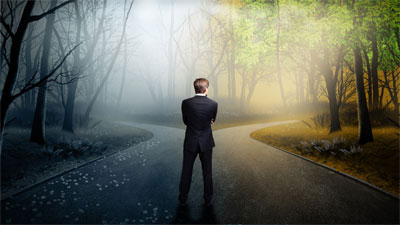 Money Tarot Card Readings and Decisions
If you have the answer before the reading, then you're not allowing the cards to guide your overall decision. Even though the Tarot reading is an excellent instrument intended for creative thinking as well as speculation, it is as well a fantastic resource designed for getting useful information regarding one's financial condition and concerns. Each and every card within a Tarot deck can offer a financial interpretation.
Money Tarot Card – Asking Questions
Questions relating to money, wealth and prosperity are among the most common questions asked. Depending on your question, you may be expecting a yes or no answer. If that's the case, you should consider each card individually. When you look at the card, does it feel positive or negative? Focus less on the imagery and more on the energy or vibe the card gives off. Then consider how bright the card is and whether that card has a specific meaning to you.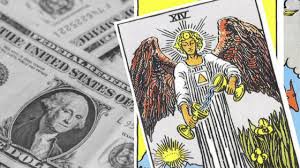 Money Tarot Card – Success
Through your Career, Money and Financial Tarot Card reading, you will notice new opportunities for success. It will help you to look at your present situation from a different angle, seeing new chances for improvement. Make it a habit to visualize your success daily. Remember that good luck follows positive energy. Working hard towards your goal is half the battle. A Tarot reading can identify the positive luck coming your way.
Money Tarot Card – Conclusion
Consider all financial decisions carefully and take your time. Never rush into any decision and do consult financial experts such as your tax advisor, the consultants at your bank, and, if appropriate and you think is necessary, neutral outside counsel as offered by various institutions and associations.