Astrology and Spirituality » Free Tarot Card Reading » Free Tarot Card Reading – 3 Card "Money" Spread
Money and careers are huge influences in our lives, whether we like it or not. Discover how the universe will influence your efforts to put your money and career in a stable place with a free, 3 card Tarot spread. The three Tarot cards (below) were shuffled when you clicked on this page. This gives you your individual reading, specifically for you.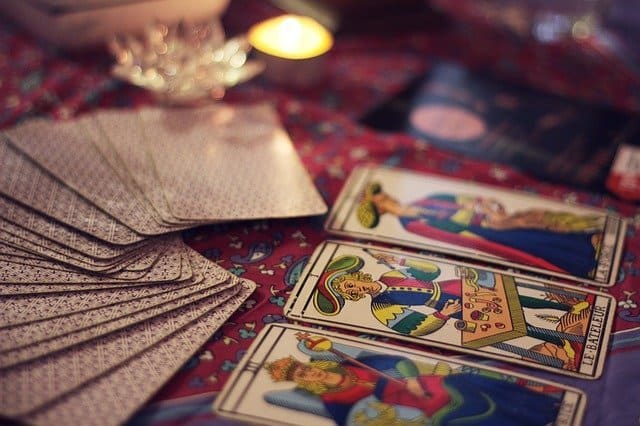 Money can't buy happiness, but it sure does make life easier! You might be wondering what is standing in your way and preventing you from building wealth. A Tarot Card reading on Money and Finance can't tell us exactly what will happen in the future, but it can certainly give us a glimpse into what lies ahead while inspiring us to propel ourselves forward through life with financial success, love, happiness and gratitude.
If things are not so great in your work life, it means that sadly, it easily can slip into other areas – whether we're taking it out on our loved ones, or stressing about finances. Used as a career directive, this reading will help you gain clarity on what you are doing in your professional life and whether you are doing it right or not and when success may come your way.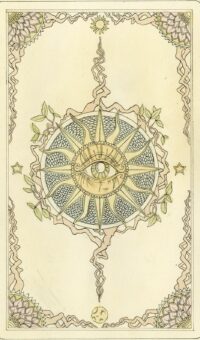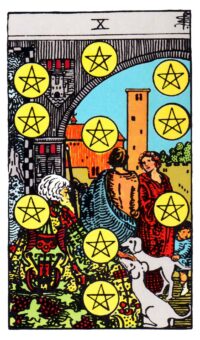 The Ten of Pentacles points to long term success in terms of wealth and family. In the Ten of Pentacles, sitting on the left is an elderly man with well-groomed grey hair and a long beard. He sits on a seat decorated in vines and healthy bunches of grapes. The grapes symbolize, wealth, abundance and riches. This Card suggests you have done, or will do, very well for yourself, not by chance, but by working very hard. The Pentacles always believe in putting their money into bricks and mortar as they like to see something tangible for all their hard work. It suggests you are looking to settle down or take steps to make your relationship more permanent.
The Elderly man in the Ten of Pentacles Reversed Card represents the old traditional ways of acquiring wealth, and that is by building an empire slowly. He is saddened as his family wants immediate wealth and have turned his fortune upside down. It can suggest family disloyalty and dishonor. There may be no family values and a lack of respect for family members or elders. You may view family obligations or duties as a burden and begrudge doing anything for them or having to visit, but you still do. The Ten of Pentacles Reversed often refers to domestic disharmony. You may be too materialistic in your relationships, causing you to become emotionally cold.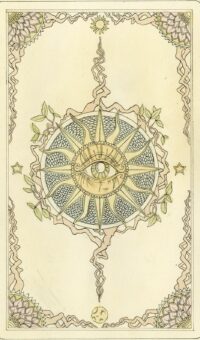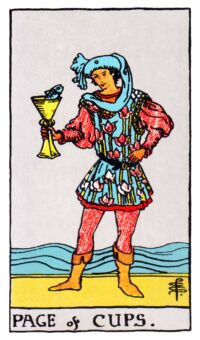 The Page of Cups represents the hidden messages in your imagination. In the Page of Cups, there is a melancholy and passionate energy to this youth, one who studies hard but gets distracted easily by their imagination. The Page of Cups blesses you with the ability to speak with emotional strength and sureness, and you are able to tell people what you do and do not want. Pages are also messengers and their appearance in Tarot signifies a message or news. This news could be from a loved one, probably a family member, and will be of an emotional content. Pages are dreamers who are capable of turning their dreams into reality.
Sometimes in life, we act without thinking and then we do something that isn't really considered smart. The Page of Cups Reversed shows you that now is the time to gain peace of mind by righting the wrongs you have made, and then attempting to not make the same mistake again in the future. The Page of Cups Reversed is a signal for you to pay attention to the emotional issues in your life that need addressing, instead of assuming it will all go a certain way. Always seek that which is loving and realistic. You abandon your own feelings when you allow yourself to repeat old patterns.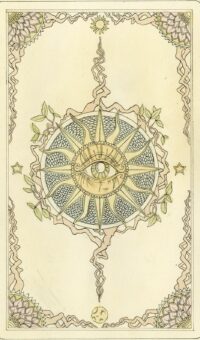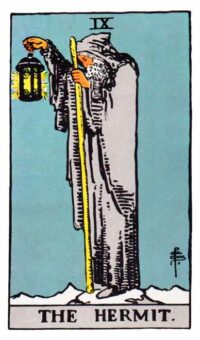 The Hermit Tarot Card brings with it, not just solitude, but also a time of reflection. It also refers to the level of spiritual knowledge that the Hermit attained, and that he is ready to impart that knowledge to you. When you become aware of your true road, there will be nothing to stand in your way, but you need honest and deep introspection to find your answers. If you ask Tarot about love and see this card, the gentle message is, you are better off alone at this time. It also is a sign that your partner is being exclusive with you, that you are the only partner for them. Alone time what you need to hear your inner voice.
The Hermit in a Reversed position states that you are a wise person, but you are too focused on finding the "truth" about some matter when you might do better to just let it go and move forward with your life. When the Hermit appears reversed, he reminds you that you should not feel alone. It is time to seek the company of others who have done the inner reflection to know their authentic self. The Hermit reversed encourages you to create more space for yourself to reconnect with your Spirit. Find the time to meditate and strengthen your Inner Light. You are truly wise.
3 Card "Money" Tarot Card Spread Positional Meanings:
The Three Card Spread is special and unique in many ways. Unlike the others, three cards do not solve only one fixed purpose. Each card and position can have different meanings. Every explanation depends on the motive behind the reading and the question bothering the user.
The 1st Card (The Past): This card represents your situation—why you're currently in the spot you're in. It often symbolizes a person or relationship in your life that has influenced your question.
The 2nd Card (The Present): This card represents the current problem, often as a direct result of the situation. Pay close attention to this card as it may be trying to show you things that you've previously overlooked.
The 3rd Card (The Future): The final card in a three-card spread provides guidance to face and overcome your issue. It may provide options you hadn't considered or resources and people you'd overlooked.
Try also the Free 3-Card "Love" Spread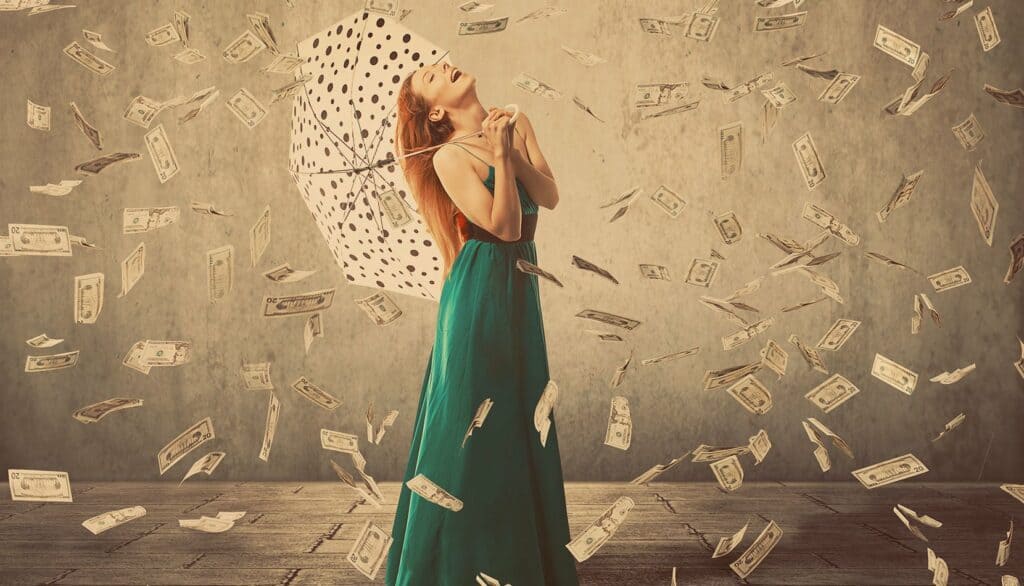 Money Tarot Card Readings
What can you do to avoid financial struggles? Everything that you wish to know with respect to your money matters may be explained through a detailed Financial Tarot Reading. Start by focusing on that one finance-related question and keep it in your mind. Focus for a moment and think about your current situation, visualize it carefully and ask for detailed and helpful answers. You may learn how your financial situation developed in the past, your current situation, and how your future in this aspect may look.
What Tarot Cards Indicate Wealth?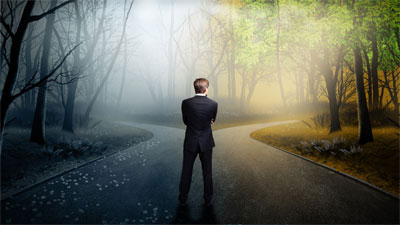 Money Tarot Card Readings and Decisions
If you have the answer before the reading, then you're not allowing the cards to guide your overall decision. Even though the Tarot reading is an excellent instrument intended for creative thinking as well as speculation, it is as well a fantastic resource designed for getting useful information regarding one's financial condition and concerns. Each and every card within a Tarot deck can offer a financial interpretation.
Money Tarot Card – Asking Questions
Questions relating to money, wealth and prosperity are among the most common questions asked. Depending on your question, you may be expecting a yes or no answer. If that's the case, you should consider each card individually. When you look at the card, does it feel positive or negative? Focus less on the imagery and more on the energy or vibe the card gives off. Then consider how bright the card is and whether that card has a specific meaning to you.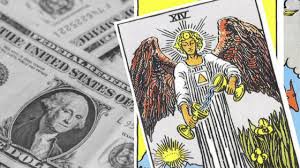 Money Tarot Card – Success
Through your Career, Money and Financial Tarot Card reading, you will notice new opportunities for success. It will help you to look at your present situation from a different angle, seeing new chances for improvement. Make it a habit to visualize your success daily. Remember that good luck follows positive energy. Working hard towards your goal is half the battle. A Tarot reading can identify the positive luck coming your way.
Money Tarot Card – Conclusion
Consider all financial decisions carefully and take your time. Never rush into any decision and do consult financial experts such as your tax advisor, the consultants at your bank, and, if appropriate and you think is necessary, neutral outside counsel as offered by various institutions and associations.