Pundit Pet has a unique way of interpreting Tarot cards. His readings strive to help people understand what might be happening in their lives. So many people don't have access to therapy, so Pete uses the images of the cards to bring up something that would trigger relevance in your life that might need acting upon. Pete shows us that there is always more than one truth to every situation. He will not hold back! Alternative viewpoints can help us understand what is really happening.
Pundit Pete uses these online cards as his tools of introspection. The magic of Pundit Pete's reading shows how the cards give you the confidence to unlock and confront feelings that you otherwise wouldn't and prepares you for realizing there are different ways of solving problems. It is good to consider that things might not be exactly what you associate them with and there are other ways of understanding why things happen the way they do.
Tarot readings tell stories — stories that might not always have a logical sense but have instead an intuitive meaning. The story is guided by a feeling, or perhaps the mood a color suggests to the receiver, or strange coincidences in the pictures. This is a creative act. A reading by Pundit Pete helps one to reach into themselves for the answers. There's something dreamy, archetypal, and intense to Pete's Tarot Reading as it can touch a part of ourselves we don't care to admit exists.
Pundit Pete gives you a reading that is about you. It is whatever you need it to be. And sometimes that means it's the tough-love truth you have been unwilling to face.
When you're out in the world, keep your eyes peeled for real life manifestations of your cards. Tarot might be a centuries-old art form, but its concepts and scenarios are as relevant as ever. Looking for chances to see your cards' meanings in the world is a great way to put tarot's ideas into action! Don't forget to check in each month on the New Moon, with a follow up for the Full Moon. Is there a Solstice coming up? Things change with the alignment of the planets, Sun and the Moon. Better line up a tarot reading
The deck is shuffled for you, when you arrive on this page.
Click each Tarot Card to reveal it, then click again to see the description. Match to the Card Position Below. Enjoy!
Right now how you feel about yourself.
Your current desires.
Fears
Forces in your favor.
Forces against you.
Outcome.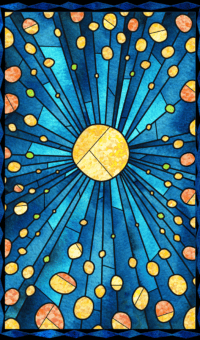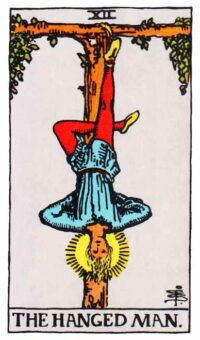 On The Hanged Man Card, a man hangs upside down from a tree or T-shaped post. Only one leg is bound to the post while the other rests tucked behind it. The Hanged Man is a card that deals with surrender and sacrifice. Sometimes, for the greater good of all, we may have to sacrifice our own desires and plans for the needs of someone or something else. Take time to stand outside the situation and view the bigger picture. It is a time to surrender and trust that life will support you and deliver you to a better place than where you currently are. Things will be looking better very shortly.
The Reversed Hanged Man indicate that your difficult time is just about over and that life is beginning to pick up again. When Reversed, The Hanged Man is facing upright – seeing everything as he usually would, instead of upside-down. When the Hanged Man shows in Reverse, the time has come to let go of an outdated attitude, situation, or friendship. One of the most important things to realize now is that you are NOT alone and you don't have to try to do everything, and solve everything, on your own. Don't hesitate to reach out for help if you need it. Your friends support you.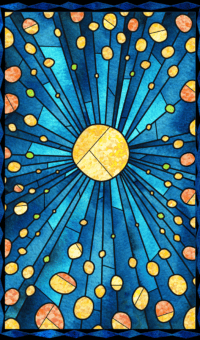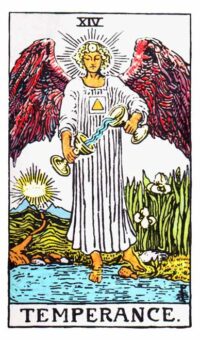 The Temperance Card has a Winged Angel, dressed in a white gown, and is pouring water from one cup to another. She is showing you the importance of having balance within your life. The bright sunshine behind the Angel signifies that the troubles of the past are behind you. Anything you might be going through at the moment is engulfed in a calming and soothing energy, thanks to this Winged Angel. Temperance is not a card of action, it is a time to be still and thankful for all the goodness that has come your way. This Winged Angel is your Guardian Angel and they have your back. Good things are coming your way.
When the Temperance Card Reverses, it shows that your life is out of balance. You don't seem to be learning from the lessons and experiences that have come your way. Why do you keep making the same mistakes over and over? Are you acting without thinking of the consequences? You are thinking too much of the past, and not living in the present. Choosing to live in the past or the future not only robs you of enjoyment today, but it also robs you of truly living. The only important moment is the present moment. Trust your Angel!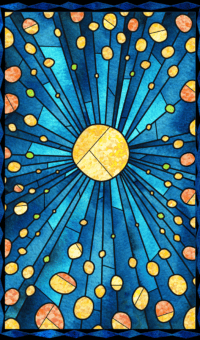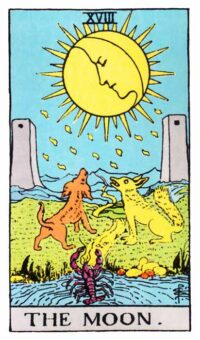 The Moon Card has The Moon, in the dark sky of night — reflecting on the pool of water. This symbolizes the subconscious mind. The dog and the wolf that are looking up at the Moon, represent all the distractions you have in everyday life, wanting your undivided attention. When The Moon appears in a reading it suggests it is time to pay attention to your dreams for they may be trying to tell you something of importance. The Moon suggests you look very closely behind the outward appearance of things happening in your life, for they may not be what they appear to be. A Full Moon brings clarity.
When The Moon Reverses, it deals with a detachment from the real world as we know it and into the unknown. Powerful emotions may be controlling you. You may be caught up in an intrigue that will eventually be discovered. Start engaging in activities that help you see the beauty of the surrounding environment, tap into your physical senses and be present. Nature can be a savior when it comes to a detachment from reality. Take a walk, observe the surroundings and indulge in the atmosphere of the season. Never underestimate the power of a Full Moon.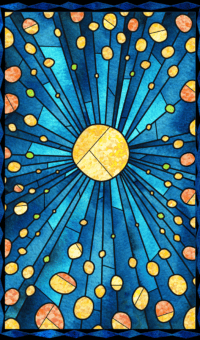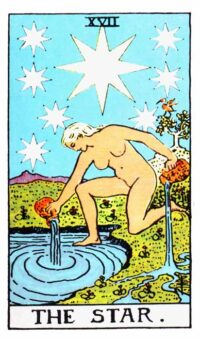 When the Star card appears, you are likely to find yourself feeling inspired. It brings renewed hope and faith and a sense that you are truly blessed by the Universe at this time. The Star almost always heralds a period of peace and healing and embodies the peaceful and creative spirit of the sign Aquarius. The Star will be especially encouraging if you have just come from a difficult period, or a strong opposition, or a major setback. This card may come after a tough time, and brings with it the message that there is Peace on its way to you It's a sign that you will regain what you lost if you will just have faith in yourself.
The Star Card, when Reversed, reveals that you may be experiencing a lack of spontaneity or false hopes. You may also be trying to overcome psychological problems. Not everything is as it feels at first. You might feel suffocated by the weight of hopelessness, but that doesn't mean there is no hope. Don't get stuck in negativity. You might find it difficult to see the bright side of life but it is still there. It is important to keep your head up because you must think positive at this moment to get ready for the brighter future that is coming. Don't lose hope, love will come to you when you expect it least.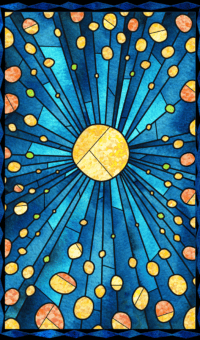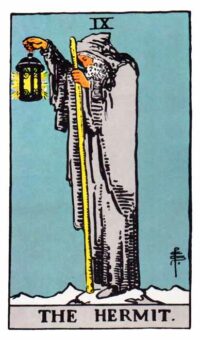 On top of a snow-covered mountain, around midnight, stands The Hermit. The Hermit is a card for taking time out to reflect on where you are going in life. It is a time to withdraw from others, and to contemplate your purpose. You need time alone to gain a deeper understanding of yourself, to remove yourself from daily life, to contemplate your path and the values that are important to you. If we look at The Hermit, his focus is on a downward journey and the climb, therefore it suggests that you are coming out of a relatively lonely, solitary time in your life. You've finally found your light.
When The Hermit is Reversed, it represents you feeling left out in the cold by family or friends. You may be an outcast on the fringe of society. Solitude might have been necessary for your peace of mind at one point, but The Hermit Reversed is telling you that it's time to come back to the world and the people around you. It's time to snap out of this negativity, lift your head and open your eyes. Until then you are in sort of a coma. This card is trying to help you because you are now experiencing some aspect of separation that is not healthy for you. It's time to reconnect with someone or something.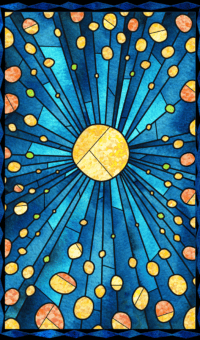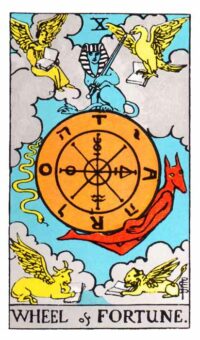 The Wheel of Fortune Card has a revolving wheel, which represents the wheel of life. A Sphinx sits on top of the Wheel, holding a sword that is tilted. The Wheel represents constant change and the fact that nothing lasts for ever and things are always changing. What you are worrying about today, will be different next week. The Sphinx tells you that there is no fortune or "Lady Luck" for you must work hard for what you get and that you are at the right place for you at this point in
When the Wheel of Fortune Reverses, it tells you that something doesn't seem to be working out as you planned. Problems might be returning to you over and over again in order to give you the opportunity to resolve them. Try to figure out where you have made mistakes and try to fix them. The Universe will always give you a second chance, so take advantage of it. Proceed with kindness for it might just be that your timing may be off. Take time to reflect on things that no longer have any value or worth and make the necessary changes.