Pundit Pet has a unique way of interpreting Tarot cards. His readings strive to help people understand what might be happening in their lives. So many people don't have access to therapy, so Pete uses the images of the cards to bring up something that would trigger relevance in your life that might need acting upon. Pete shows us that there is always more than one truth to every situation. Alternative viewpoints can help us understand what is really happening.
Pundit Pete uses these online cards as his tools of introspection. The magic of Pundit Pete's reading shows how the cards give you the confidence to unlock and confront feelings that you otherwise wouldn't and prepares you for realizing there are different ways of solving problems. It is good to consider that things might not be exactly what you associate them with and there are other ways of understanding why things happen the way they do.
Tarot readings tell stories — stories that might not always have a logical sense but have instead an intuitive meaning. The story is guided by a feeling, or perhaps the mood a color suggests to the receiver, or strange coincidences in the pictures. This is a creative act. A reading by Pundit Pete helps one to reach into themselves for the answers. There's something dreamy, archetypal, and intense to Pete's Tarot Reading as it can touch a part of ourselves we don't care to admit exists.
Pundit Pete gives you a reading that is about you. It is whatever you need it to be. And sometimes that means it's the tough-love truth you have been unwilling to face.
When you're out in the world, keep your eyes peeled for real life manifestations of your cards. Tarot might be a centuries-old art form, but its concepts and scenarios are as relevant as ever. Looking for chances to see your cards' meanings in the world is a great way to put tarot's ideas into action! Don't forget to check in each month on the New Moon, with a follow up for the Full Moon. Is there a Solstice coming up? Things change with the alignment of the planets, Sun and the Moon. Better line up a tarot reading during these times, too!
Click each Tarot Card to reveal it, then click again to see the description. Match to the Card Position Below. Enjoy!
Right now how you feel about yourself.
Your current desires.
Fears
Forces in your favor.
Forces against you.
Outcome.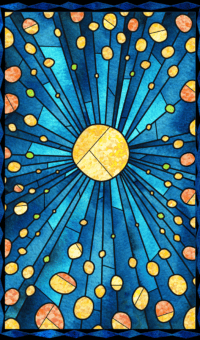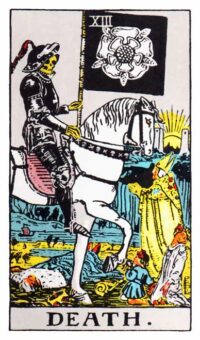 The Death Card depicts a knight in black armor with a skull for a face riding on a giant white horse. The area through which he rides has a body of water with a ship. The Death Card shows that something has ended and something will begin, and it doesn't care if the end is painful and the new beginning welcomed or vice versa. The card implies the need to let something go. Often we like to hold on to aspects of our life even after they serve no more purpose. Now is the time to let go of that which is not helping you or bettering your life in some way.
When The Death card is Reversed, it suggests stagnation or avoidance of necessary changes for growth. It signifies that it is time to let go and make changes instead of resisting, because if you choose not to, the Universe will do it for you. The Death card represents the Sun Sign of Scorpio. One of the lessons for Scorpio is to learn to accept change and not be so fearful of it. There is often strength in surrender. If we remain strong and positive through the dark times we are assured that the sun will rise once again and dispel all the gloom.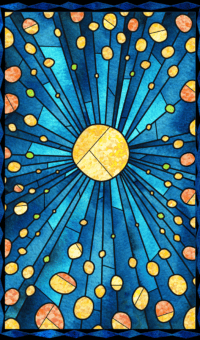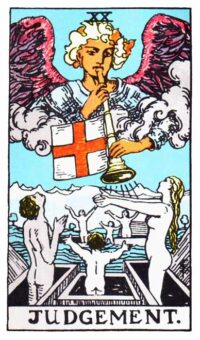 The Judgment Card is all about Karma. We all know that we can attract both good and bad Karma as a result of our actions. Only we can be the judge of which we have attracted the most. The Angel's Trumpet sounds loud and clear and it may bring with it a sudden realization of how your past has created your present circumstances. This brings a powerful understanding that any actions taken from here on will also impact on your future. The Judgment Card can also represent a relationship once thought dead brought back to life again as a result of honesty and clear communications.
The Reversed Judgment Card can suggest a fear of getting old and dying. You may feel your life has been a waste of time and that you are too old or it is too late to make the necessary changes. A deep unhappiness and lack of fulfillment can cause negativity and bitterness. It is never to late to live. You may doubt yourself or tell yourself negative messages. This is impeding you being able to fulfill your highest potential and be your best self. It's time to push past your inner fears and self-doubts, and trust that the Universe has your back. The best time for you is right now!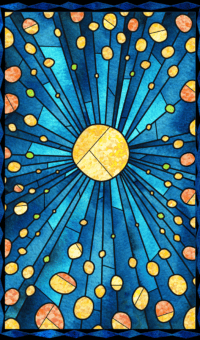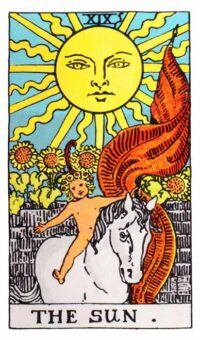 The Sun Shines brightly, with its rays touching every living thing. This Sun Card shows a happy child, riding a horse, and surrounded by Sunflowers. The Sun brings you joyous freedom and boundless energy. Your day in the Sun has finally arrived. It is time for living in the moment and enjoying life. The child represents the freedom to be happy. People who have meaning and purpose in their lives are happier and get more out of what they do. When the Sun shines, it is easier to forget your troubles and the world looks like a good place to be.
When the Sun Card Reverses, you don't see the brightness of the Sun as you are worrying about a situation. You are focusing time and energy on your worries, instead of taking action to solve your problems. Then when you put off responsibilities that you need to take care of, you will only add to your worries. Negative thinking is a learned habit that can impact your mood. Laughter creates changes in your brain and gives you a positive boost in mood right away. Humor is a great way to manage your emotions. A walk in Nature will clear your mind.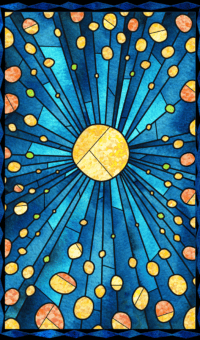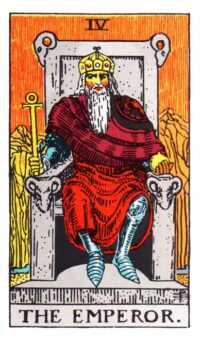 The Emperor sits on a Ram-adorned throne, a symbol of Mars. Another Ram head can be seen on his cloak. The Emperor is a father figure, representing ambition, worldly power and strength. It also represents Wisdom gained from experience and struggles that have been overcome. Regardless of his outer attire, The Emperor is always ready, always prepared and not afraid to go into battle, defend his position or attack his enemies should the need arise. The Emperor appearing in a reading suggests a period of great stability and security in your life. You are on top of things and have everything under control.
The Reversed Emperor can imply a lack of ambition or the drive to make anything happen in your life.
You may talk of how things 'should be' but leave it to others to take up the issue. You have been blocking and restricting something or someone for a while, acting defensively and are very protective of your space. The Emperor Reversed is a strong indication that an area of your life is spiraling out of control. You may be in a mess and don't know how to fix things. You may have set no boundaries or rules for yourself or others. You need to stop and evaluate the situation before making any more decisions.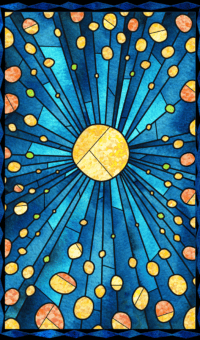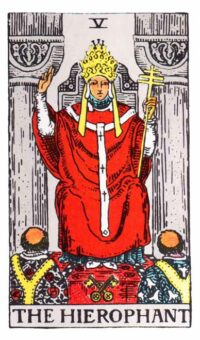 The Hierophant, also thought of as the Pope or High Priest, sits on his gray stone throne with two monks kneeling at his feet. The Hierophant represents someone who thinks they know better than you and what is in your best interest. It is time to think outside the box and form your own views. It is also a symbol of education and tradition. This card suggests seeking spiritual guidance or advice about an issue that is bothering you. You may be keeping up appearances on the outside when things are far from right inside. Bring this issue out in the open, it needs to be solved.
The Hierophant Reversed may suggest that you are disappointed in your religion and may be making a change. You want to do the right thing but are finding yourself less sure about what really is right now. It is also a time of feeling and acting rebelliously. The Hierophant Reversed may also represent your feelings of being trapped due to social pressures by a group you belong to or by society as a whole. While you do not agree with some or all of their fundamental beliefs, you find yourself forced to conform to their standards and ideals. Be true to yourself, it will keep you on the right path.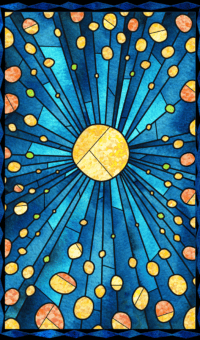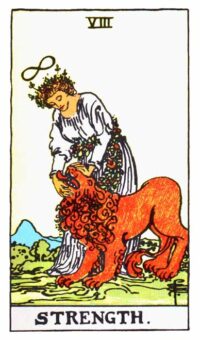 The Strength Card is a symbol of inner power and, of course, strength. It is a very positive card if you are fighting illness or recovering from injury. It is the Major Arcana card of inner strength. It represents mastering raw emotions in order to bring calm to yourself or a situation. It is similar to the Chariot in that it represents overcoming challenges. The Strength card also refers to inner challenges. It's important to stay on top of your Karma connections. When you see this card, know that a guardian angel is in your corner to help you master the lions of the world that you need to, in order to experience victory.
The Strength Card, when Reversed, is all about struggles with inner strength. You are withdrawing from society because of the unhappiness or depression you feel and think that people are the reason why you feel sad. Everyone seems to be happy or excelling in every aspect of life while you are stagnating. Things aren't always as they appear. You must remember that you have a lot to be grateful for and that you should make a point to count your blessings. Appreciating what you currently have in hand is key to opening yourself up for more. You hold more strength and resilience than you give yourself credit for – so, be kind to yourself.