Pundit Pet has a unique way of interpreting Tarot cards. His readings strive to help people understand what might be happening in their lives. So many people don't have access to therapy, so Pete uses the images of the cards to bring up something that would trigger relevance in your life that might need acting upon. Pete shows us that there is always more than one truth to every situation. Alternative viewpoints can help us understand what is really happening.
Pundit Pete uses these online cards as his tools of introspection. The magic of Pundit Pete's reading shows how the cards give you the confidence to unlock and confront feelings that you otherwise wouldn't and prepares you for realizing there are different ways of solving problems. It is good to consider that things might not be exactly what you associate them with and there are other ways of understanding why things happen the way they do.
Tarot readings tell stories — stories that might not always have a logical sense but have instead an intuitive meaning. The story is guided by a feeling, or perhaps the mood a color suggests to the receiver, or strange coincidences in the pictures. This is a creative act. A reading by Pundit Pete helps one to reach into themselves for the answers. There's something dreamy, archetypal, and intense to Pete's Tarot Reading as it can touch a part of ourselves we don't care to admit exists.
Pundit Pete gives you a reading that is about you. It is whatever you need it to be. And sometimes that means it's the tough-love truth you have been unwilling to face.
When you're out in the world, keep your eyes peeled for real life manifestations of your cards. Tarot might be a centuries-old art form, but its concepts and scenarios are as relevant as ever. Looking for chances to see your cards' meanings in the world is a great way to put tarot's ideas into action! Don't forget to check in each month on the New Moon, with a follow up for the Full Moon. Is there a Solstice coming up? Things change with the alignment of the planets, Sun and the Moon. Better line up a tarot reading during these times, too!
Click each Tarot Card to reveal it, then click again to see the description. Match to the Card Position Below. Enjoy!
Right now how you feel about yourself.
Your current desires.
Fears
Forces in your favor.
Forces against you.
Outcome.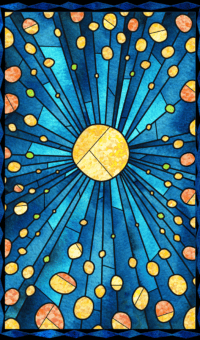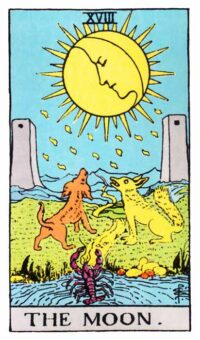 The Moon Card has The Moon, in the dark sky of night — reflecting on the pool of water. This symbolizes the subconscious mind. The dog and the wolf that are looking up at the Moon, represent all the distractions you have in everyday life, wanting your undivided attention. When The Moon appears in a reading it suggests it is time to pay attention to your dreams for they may be trying to tell you something of importance. The Moon suggests you look very closely behind the outward appearance of things happening in your life, for they may not be what they appear to be. A Full Moon brings clarity.
When The Moon Reverses, it deals with a detachment from the real world as we know it and into the unknown. Powerful emotions may be controlling you. You may be caught up in an intrigue that will eventually be discovered. Start engaging in activities that help you see the beauty of the surrounding environment, tap into your physical senses and be present. Nature can be a savior when it comes to a detachment from reality. Take a walk, observe the surroundings and indulge in the atmosphere of the season. Never underestimate the power of a Full Moon.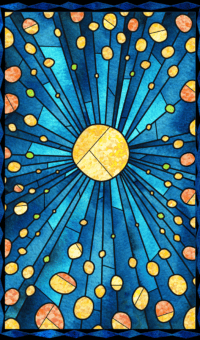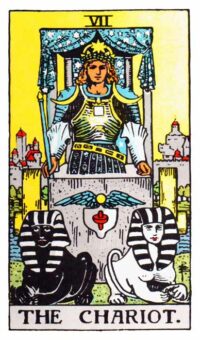 The Chariot Card depicts a man riding out-of-town in a chariot, with two sphinxes pulling the chariot forward, standing tall, strong and determined. He is dressed in battle attire and holds a wand in one hand. When this card appears you are likely to be fairly clear on what your hopes and dreams involve and what you are willing to do to make them come true. Just keep focused and believe in your own abilities and you will achieve your goal. This card tells you that a triumph is waiting for you and that you are fully in control of making it happen.
The Reversed Chariot card can indicate failure, defeat, and a lack of control. When this card appears in your reading, it can be a sign that you lost your determination to get things done. The Chariot Reversed card tells you to pause for a while and think about your values and beliefs. They will help you to make choices you have been avoiding, which will give you self-confidence and self-esteem. The Chariot Reversed can suggest that you may be over-reacting to a situation and need to retreat in order to calm down and logically view the situation from a safe distance. Things are not always as they seem.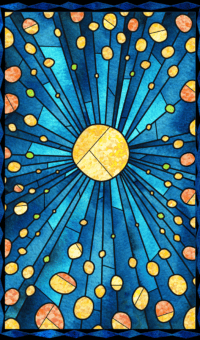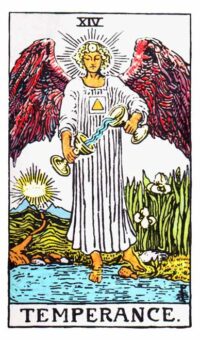 The Temperance Card has a Winged Angel, dressed in a white gown, and is pouring water from one cup to another. She is showing you the importance of having balance within your life. The bright sunshine behind the Angel signifies that the troubles of the past are behind you. Anything you might be going through at the moment is engulfed in a calming and soothing energy, thanks to this Winged Angel. Temperance is not a card of action, it is a time to be still and thankful for all the goodness that has come your way. This Winged Angel is your Guardian Angel and they have your back. Good things are coming your way.
When the Temperance Card Reverses, it shows that your life is out of balance. You don't seem to be learning from the lessons and experiences that have come your way. Why do you keep making the same mistakes over and over? Are you acting without thinking of the consequences? You are thinking too much of the past, and not living in the present. Choosing to live in the past or the future not only robs you of enjoyment today, but it also robs you of truly living. The only important moment is the present moment. Trust your Angel!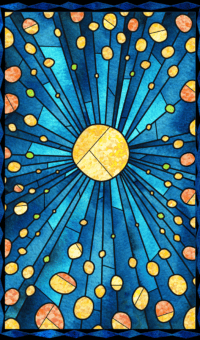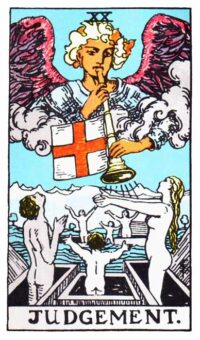 The Judgment Card is all about Karma. We all know that we can attract both good and bad Karma as a result of our actions. Only we can be the judge of which we have attracted the most. The Angel's Trumpet sounds loud and clear and it may bring with it a sudden realization of how your past has created your present circumstances. This brings a powerful understanding that any actions taken from here on will also impact on your future. The Judgment Card can also represent a relationship once thought dead brought back to life again as a result of honesty and clear communications.
The Reversed Judgment Card can suggest a fear of getting old and dying. You may feel your life has been a waste of time and that you are too old or it is too late to make the necessary changes. A deep unhappiness and lack of fulfillment can cause negativity and bitterness. It is never to late to live. You may doubt yourself or tell yourself negative messages. This is impeding you being able to fulfill your highest potential and be your best self. It's time to push past your inner fears and self-doubts, and trust that the Universe has your back. The best time for you is right now!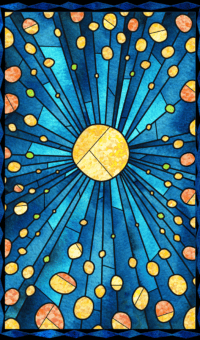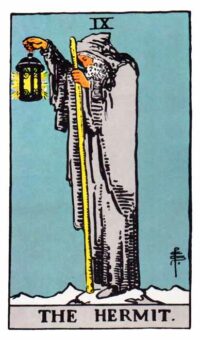 On top of a snow-covered mountain, around midnight, stands The Hermit. The Hermit is a card for taking time out to reflect on where you are going in life. It is a time to withdraw from others, and to contemplate your purpose. You need time alone to gain a deeper understanding of yourself, to remove yourself from daily life, to contemplate your path and the values that are important to you. If we look at The Hermit, his focus is on a downward journey and the climb, therefore it suggests that you are coming out of a relatively lonely, solitary time in your life. You've finally found your light.
When The Hermit is Reversed, it represents you feeling left out in the cold by family or friends. You may be an outcast on the fringe of society. Solitude might have been necessary for your peace of mind at one point, but The Hermit Reversed is telling you that it's time to come back to the world and the people around you. It's time to snap out of this negativity, lift your head and open your eyes. Until then you are in sort of a coma. This card is trying to help you because you are now experiencing some aspect of separation that is not healthy for you. It's time to reconnect with someone or something.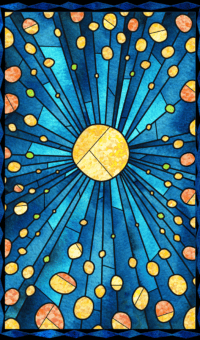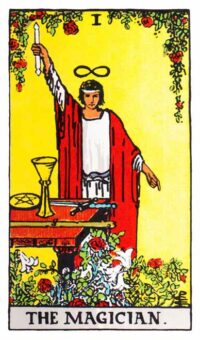 The Magician Card stands for the Self, the Ego, the Will. He stands proud and tall. His appearance is commanding and regal. He holds a large crystal wand in his right hand and points it towards the heavens while he points with his left hand to the ground. The Magician understands the nature of energy and knows that there is a limitless supply available to him. However his secret power lies in his ability to manipulate this energy to serve his own needs. The Magician makes things happen and so too can you once you have the right tools and skills properly applied. You have unlimited power to use wisely.
The Reversed Magician suggests that you might be under-skilled or inadequate in a situation you are currently involved with. He is telling you that you have neither the right tools nor a workable plan to make it a success. He can indicate that you may be trying to run with a new idea or project before you have adequately finished another. Impatience and frustration may be evident as you desire to be free to get going with your plans. He will stop at nothing as he believes the end justifies the means. The Reversed Magician is often out of touch with reality. You need more time for clear thinking.