Pundit Pet has a unique way of interpreting Tarot cards. His readings strive to help people understand what might be happening in their lives. So many people don't have access to therapy, so Pete uses the images of the cards to bring up something that would trigger relevance in your life that might need acting upon. Pete shows us that there is always more than one truth to every situation. He will not hold back! Alternative viewpoints can help us understand what is really happening.
Pundit Pete uses these online cards as his tools of introspection. The magic of Pundit Pete's reading shows how the cards give you the confidence to unlock and confront feelings that you otherwise wouldn't and prepares you for realizing there are different ways of solving problems. It is good to consider that things might not be exactly what you associate them with and there are other ways of understanding why things happen the way they do.
Tarot readings tell stories — stories that might not always have a logical sense but have instead an intuitive meaning. The story is guided by a feeling, or perhaps the mood a color suggests to the receiver, or strange coincidences in the pictures. This is a creative act. A reading by Pundit Pete helps one to reach into themselves for the answers. There's something dreamy, archetypal, and intense to Pete's Tarot Reading as it can touch a part of ourselves we don't care to admit exists.
Pundit Pete gives you a reading that is about you. It is whatever you need it to be. And sometimes that means it's the tough-love truth you have been unwilling to face.
When you're out in the world, keep your eyes peeled for real life manifestations of your cards. Tarot might be a centuries-old art form, but its concepts and scenarios are as relevant as ever. Looking for chances to see your cards' meanings in the world is a great way to put tarot's ideas into action! Don't forget to check in each month on the New Moon, with a follow up for the Full Moon. Is there a Solstice coming up? Things change with the alignment of the planets, Sun and the Moon. Better line up a tarot reading
The deck is shuffled for you, when you arrive on this page.
Click each Tarot Card to reveal it, then click again to see the description. Match to the Card Position Below. Enjoy!
Right now how you feel about yourself.
Your current desires.
Fears
Forces in your favor.
Forces against you.
Outcome.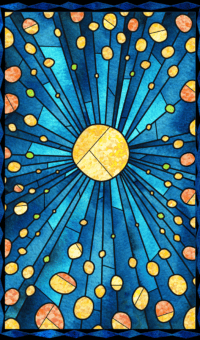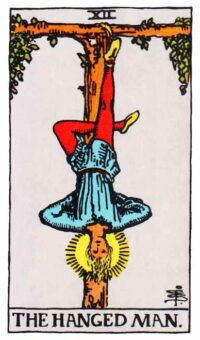 On The Hanged Man Card, a man hangs upside down from a tree or T-shaped post. Only one leg is bound to the post while the other rests tucked behind it. The Hanged Man is a card that deals with surrender and sacrifice. Sometimes, for the greater good of all, we may have to sacrifice our own desires and plans for the needs of someone or something else. Take time to stand outside the situation and view the bigger picture. It is a time to surrender and trust that life will support you and deliver you to a better place than where you currently are. Things will be looking better very shortly.
The Reversed Hanged Man indicate that your difficult time is just about over and that life is beginning to pick up again. When Reversed, The Hanged Man is facing upright – seeing everything as he usually would, instead of upside-down. When the Hanged Man shows in Reverse, the time has come to let go of an outdated attitude, situation, or friendship. One of the most important things to realize now is that you are NOT alone and you don't have to try to do everything, and solve everything, on your own. Don't hesitate to reach out for help if you need it. Your friends support you.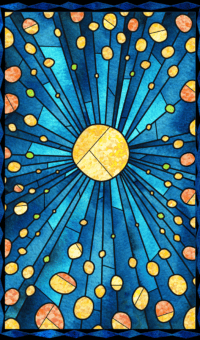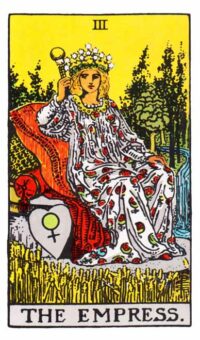 The Empress, in her role as Mother Nature, gives birth to all creation and lovingly nurtures and cares for them. The triple crown is symbolic of the Triple Goddess: Maiden, Mother and Crone. The 12 stars represent the 12 Sun Signs of the Zodiac. The Empress asks you to respect and care for the environment and all the creatures that reside within. She is the Goddess of unconditional love. She does not rule through power or force, but instead, she rules through kindness The Empress stands for all things motherly. She is a nurturing, loving problem solver and predicts that your future will bring healing.
Reversed, The Empress Tarot card suggests that you are putting too much emphasis on the emotional or material needs of another person, and thus, you are neglecting your own needs. The Empress Reversed can suggest commitment issues. You may have a habit of bailing out of relationships as soon as they seem to be going somewhere or settling down. The Empress Reversed is telling you that you are craving a stronger connection with nature and Mother Earth. Now is the perfect occasion to spend even just a few hours in a natural setting such as a beach, park or garden, while taking time to smell the roses. Time in Nature will help you love yourself more.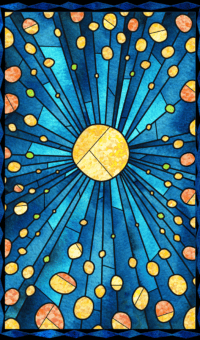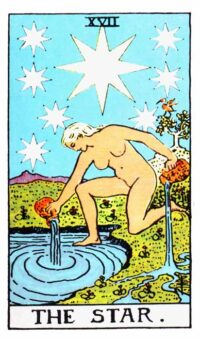 When the Star card appears, you are likely to find yourself feeling inspired. It brings renewed hope and faith and a sense that you are truly blessed by the Universe at this time. The Star almost always heralds a period of peace and healing and embodies the peaceful and creative spirit of the sign Aquarius. The Star will be especially encouraging if you have just come from a difficult period, or a strong opposition, or a major setback. This card may come after a tough time, and brings with it the message that there is Peace on its way to you It's a sign that you will regain what you lost if you will just have faith in yourself.
The Star Card, when Reversed, reveals that you may be experiencing a lack of spontaneity or false hopes. You may also be trying to overcome psychological problems. Not everything is as it feels at first. You might feel suffocated by the weight of hopelessness, but that doesn't mean there is no hope. Don't get stuck in negativity. You might find it difficult to see the bright side of life but it is still there. It is important to keep your head up because you must think positive at this moment to get ready for the brighter future that is coming. Don't lose hope, love will come to you when you expect it least.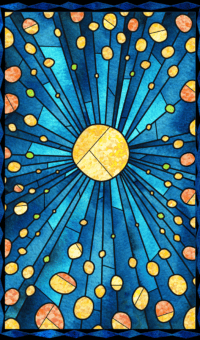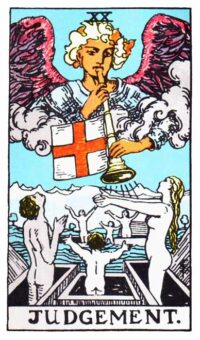 The Judgment Card is all about Karma. We all know that we can attract both good and bad Karma as a result of our actions. Only we can be the judge of which we have attracted the most. The Angel's Trumpet sounds loud and clear and it may bring with it a sudden realization of how your past has created your present circumstances. This brings a powerful understanding that any actions taken from here on will also impact on your future. The Judgment Card can also represent a relationship once thought dead brought back to life again as a result of honesty and clear communications.
The Reversed Judgment Card can suggest a fear of getting old and dying. You may feel your life has been a waste of time and that you are too old or it is too late to make the necessary changes. A deep unhappiness and lack of fulfillment can cause negativity and bitterness. It is never to late to live. You may doubt yourself or tell yourself negative messages. This is impeding you being able to fulfill your highest potential and be your best self. It's time to push past your inner fears and self-doubts, and trust that the Universe has your back. The best time for you is right now!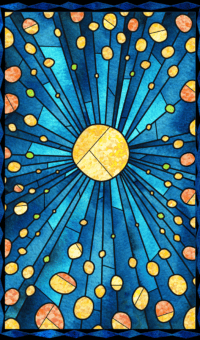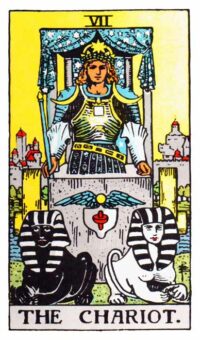 The Chariot Card depicts a man riding out-of-town in a chariot, with two sphinxes pulling the chariot forward, standing tall, strong and determined. He is dressed in battle attire and holds a wand in one hand. When this card appears you are likely to be fairly clear on what your hopes and dreams involve and what you are willing to do to make them come true. Just keep focused and believe in your own abilities and you will achieve your goal. This card tells you that a triumph is waiting for you and that you are fully in control of making it happen.
The Reversed Chariot card can indicate failure, defeat, and a lack of control. When this card appears in your reading, it can be a sign that you lost your determination to get things done. The Chariot Reversed card tells you to pause for a while and think about your values and beliefs. They will help you to make choices you have been avoiding, which will give you self-confidence and self-esteem. The Chariot Reversed can suggest that you may be over-reacting to a situation and need to retreat in order to calm down and logically view the situation from a safe distance. Things are not always as they seem.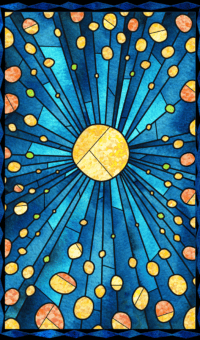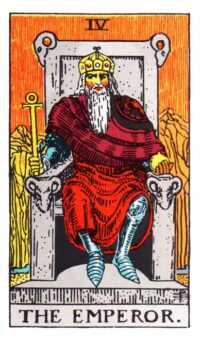 The Emperor sits on a Ram-adorned throne, a symbol of Mars. Another Ram head can be seen on his cloak. The Emperor is a father figure, representing ambition, worldly power and strength. It also represents Wisdom gained from experience and struggles that have been overcome. Regardless of his outer attire, The Emperor is always ready, always prepared and not afraid to go into battle, defend his position or attack his enemies should the need arise. The Emperor appearing in a reading suggests a period of great stability and security in your life. You are on top of things and have everything under control.
The Reversed Emperor can imply a lack of ambition or the drive to make anything happen in your life.
You may talk of how things 'should be' but leave it to others to take up the issue. You have been blocking and restricting something or someone for a while, acting defensively and are very protective of your space. The Emperor Reversed is a strong indication that an area of your life is spiraling out of control. You may be in a mess and don't know how to fix things. You may have set no boundaries or rules for yourself or others. You need to stop and evaluate the situation before making any more decisions.