Pundit Pet has a unique way of interpreting Tarot cards. His readings strive to help people understand what might be happening in their lives. So many people don't have access to therapy, so Pete uses the images of the cards to bring up something that would trigger relevance in your life that might need acting upon. Pete shows us that there is always more than one truth to every situation. He will not hold back! Alternative viewpoints can help us understand what is really happening.
Pundit Pete uses these online cards as his tools of introspection. The magic of Pundit Pete's reading shows how the cards give you the confidence to unlock and confront feelings that you otherwise wouldn't and prepares you for realizing there are different ways of solving problems. It is good to consider that things might not be exactly what you associate them with and there are other ways of understanding why things happen the way they do.
Tarot readings tell stories — stories that might not always have a logical sense but have instead an intuitive meaning. The story is guided by a feeling, or perhaps the mood a color suggests to the receiver, or strange coincidences in the pictures. This is a creative act. A reading by Pundit Pete helps one to reach into themselves for the answers. There's something dreamy, archetypal, and intense to Pete's Tarot Reading as it can touch a part of ourselves we don't care to admit exists.
Pundit Pete gives you a reading that is about you. It is whatever you need it to be. And sometimes that means it's the tough-love truth you have been unwilling to face.
When you're out in the world, keep your eyes peeled for real life manifestations of your cards. Tarot might be a centuries-old art form, but its concepts and scenarios are as relevant as ever. Looking for chances to see your cards' meanings in the world is a great way to put tarot's ideas into action! Don't forget to check in each month on the New Moon, with a follow up for the Full Moon. Is there a Solstice coming up? Things change with the alignment of the planets, Sun and the Moon. Better line up a tarot reading
The deck is shuffled for you, when you arrive on this page.
Click each Tarot Card to reveal it, then click again to see the description. Match to the Card Position Below. Enjoy!
Right now how you feel about yourself.
Your current desires.
Fears
Forces in your favor.
Forces against you.
Outcome.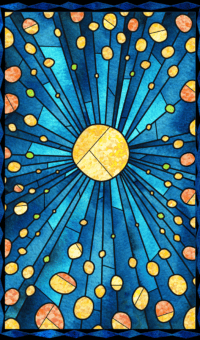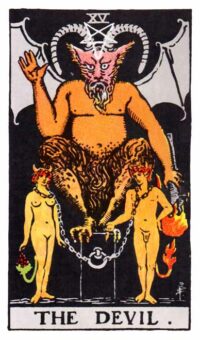 The Devil sits, half beast, half man, on a perch in a black room. He has the head of a horned goat. This card's appearance is your wake up call. You are hooked into something and may not even realize it. It could be the mindset of being a victim, or it could be the need to have a buzz before facing the day. The Devil card forces you to ask yourself if you are really taking responsibility for your actions or if you are just blaming a scapegoat like the Devil. The Devil card is often associated with clouds of chaos, confusion and disorder.
In Reverse, the Devil card represents breaking free from bondage and limitations. A Reversed Devil denotes someone who is confronting their demons and methodically fighting back. Someone who is recovering from addiction or trying to rehabilitate their former wild ways is a perfect example of the reverse Devil card. Once The Devil Reverses, it indicates that you are taking the necessary steps to free yourself from a restricting situation. You are beginning to think for yourself again and deciding your own path.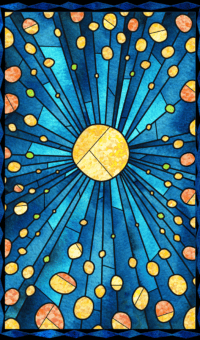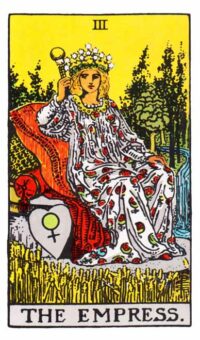 The Empress, in her role as Mother Nature, gives birth to all creation and lovingly nurtures and cares for them. The triple crown is symbolic of the Triple Goddess: Maiden, Mother and Crone. The 12 stars represent the 12 Sun Signs of the Zodiac. The Empress asks you to respect and care for the environment and all the creatures that reside within. She is the Goddess of unconditional love. She does not rule through power or force, but instead, she rules through kindness The Empress stands for all things motherly. She is a nurturing, loving problem solver and predicts that your future will bring healing.
Reversed, The Empress Tarot card suggests that you are putting too much emphasis on the emotional or material needs of another person, and thus, you are neglecting your own needs. The Empress Reversed can suggest commitment issues. You may have a habit of bailing out of relationships as soon as they seem to be going somewhere or settling down. The Empress Reversed is telling you that you are craving a stronger connection with nature and Mother Earth. Now is the perfect occasion to spend even just a few hours in a natural setting such as a beach, park or garden, while taking time to smell the roses. Time in Nature will help you love yourself more.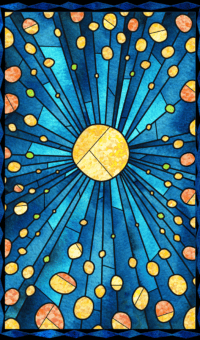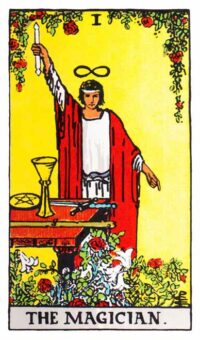 The Magician Card stands for the Self, the Ego, the Will. He stands proud and tall. His appearance is commanding and regal. He holds a large crystal wand in his right hand and points it towards the heavens while he points with his left hand to the ground. The Magician understands the nature of energy and knows that there is a limitless supply available to him. However his secret power lies in his ability to manipulate this energy to serve his own needs. The Magician makes things happen and so too can you once you have the right tools and skills properly applied. You have unlimited power to use wisely.
The Reversed Magician suggests that you might be under-skilled or inadequate in a situation you are currently involved with. He is telling you that you have neither the right tools nor a workable plan to make it a success. He can indicate that you may be trying to run with a new idea or project before you have adequately finished another. Impatience and frustration may be evident as you desire to be free to get going with your plans. He will stop at nothing as he believes the end justifies the means. The Reversed Magician is often out of touch with reality. You need more time for clear thinking.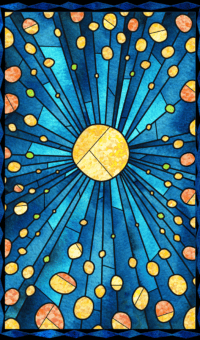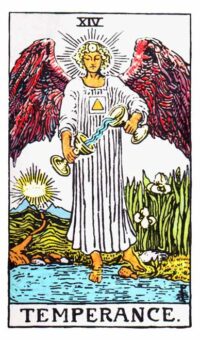 The Temperance Card has a Winged Angel, dressed in a white gown, and is pouring water from one cup to another. She is showing you the importance of having balance within your life. The bright sunshine behind the Angel signifies that the troubles of the past are behind you. Anything you might be going through at the moment is engulfed in a calming and soothing energy, thanks to this Winged Angel. Temperance is not a card of action, it is a time to be still and thankful for all the goodness that has come your way. This Winged Angel is your Guardian Angel and they have your back. Good things are coming your way.
When the Temperance Card Reverses, it shows that your life is out of balance. You don't seem to be learning from the lessons and experiences that have come your way. Why do you keep making the same mistakes over and over? Are you acting without thinking of the consequences? You are thinking too much of the past, and not living in the present. Choosing to live in the past or the future not only robs you of enjoyment today, but it also robs you of truly living. The only important moment is the present moment. Trust your Angel!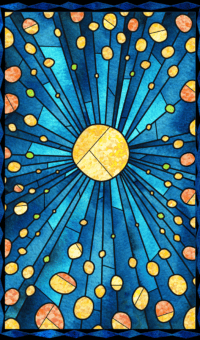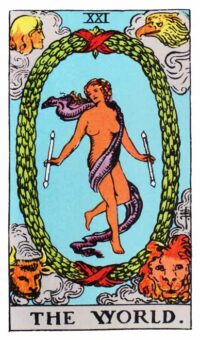 The World card has a woman standing in the center of a large Laurel Wreath. With her sash swirling around her body, she holds two wands. She is in charge and you better listen. She has learned that true happiness first comes from within. You have completed projects that you have been working on and others are happy for you. You think you are terrific, but you are forgetting that there were many who helped you along the way. Appreciate them. It is time for you to step out of your own World and experience more of the Outside World for there is a lot to see.
A Reversed World Card has you abandoning a dream that you have pursued for so long as you have lost interest in how slow the journey has been. Success can be achieved but there are some set-backs and delays. Don't feel jealous of those who are getting the success that you want as you will get your turn, too. You must stop going around in your own little World, oblivious to what others are doing as you think it has nothing to do with you. That is not true, for we are all in this together. A new opportunity will be coming your way, don't let it pass you by.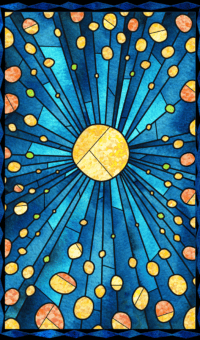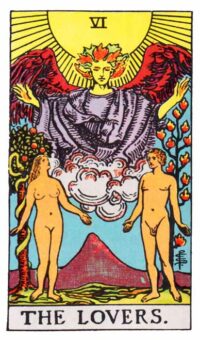 The Lovers represent the level of, and quality of, communication within your relationships. For a relationship to remain healthy, active and forward moving is essential to keep a strong two-way flow of communication in operation. If your relationships are generally successful then you have little to worry about, but if you have a pattern of getting hurt or taken advantage of, then it may be you that is at fault and not the partners you choose. Due to The Lovers connection with Adam and Eve and the Garden of Eden temptations of the flesh may be an issue for one of you. No one is perfect, always be kind.
The couple represented by The Lovers Reversed no longer knows how to make each other happy and have lost their spiritual connection. It might be that they prefer the heady romantic stage of a relationship only to find that it fades after a period of time. The Lovers Reversed often suggests low self-esteem and a lack of love for oneself which may be the root cause of relationship problems. The Lovers appearing Reversed may suggest that now is not the right time to move forward, or make changes, in whatever situation you are in. Some people are not meant for restricting relationships.