Pundit Pet has a unique way of interpreting Tarot cards. His readings strive to help people understand what might be happening in their lives. So many people don't have access to therapy, so Pete uses the images of the cards to bring up something that would trigger relevance in your life that might need acting upon. Pete shows us that there is always more than one truth to every situation. He will not hold back! Alternative viewpoints can help us understand what is really happening.
Pundit Pete uses these online cards as his tools of introspection. The magic of Pundit Pete's reading shows how the cards give you the confidence to unlock and confront feelings that you otherwise wouldn't and prepares you for realizing there are different ways of solving problems. It is good to consider that things might not be exactly what you associate them with and there are other ways of understanding why things happen the way they do.
Tarot readings tell stories — stories that might not always have a logical sense but have instead an intuitive meaning. The story is guided by a feeling, or perhaps the mood a color suggests to the receiver, or strange coincidences in the pictures. This is a creative act. A reading by Pundit Pete helps one to reach into themselves for the answers. There's something dreamy, archetypal, and intense to Pete's Tarot Reading as it can touch a part of ourselves we don't care to admit exists.
Pundit Pete gives you a reading that is about you. It is whatever you need it to be. And sometimes that means it's the tough-love truth you have been unwilling to face.
When you're out in the world, keep your eyes peeled for real life manifestations of your cards. Tarot might be a centuries-old art form, but its concepts and scenarios are as relevant as ever. Looking for chances to see your cards' meanings in the world is a great way to put tarot's ideas into action! Don't forget to check in each month on the New Moon, with a follow up for the Full Moon. Is there a Solstice coming up? Things change with the alignment of the planets, Sun and the Moon. Better line up a tarot reading
The deck is shuffled for you, when you arrive on this page.
Click each Tarot Card to reveal it, then click again to see the description. Match to the Card Position Below. Enjoy!
Right now how you feel about yourself.
Your current desires.
Fears
Forces in your favor.
Forces against you.
Outcome.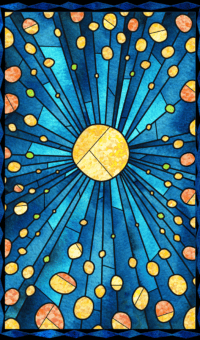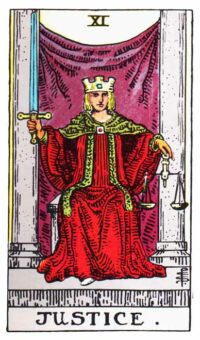 When the Justice Card appears, it can mean that whatever situation you are in at present is turning out just as it should. The laws of Karma apply right now. You are reaping exactly that which you sewed. The scales are balanced. Karma always works. It is a time for you to sit down and think about how things are for you right now, and what you have said and done to make things happen. Be honest with yourself first and then be honest with those around you. You must consider the result of your actions when Justice appears because your very future depends on it. Good Karma will come your way.
When Justice Reverses, you may feel that life is treating you unfairly at the moment. Justice Reversed suggests that you are not willing to take full accountability for your actions and may try to 'dodge the bullet' and blame others for your mistakes. You are being dishonest with yourself and others when you do this. If you are making an important decision that will impact others, be aware if you are holding on to any prejudice or bias that could sway your decision unfairly. Sometimes life gives you a hard path to follow, even when you have done the best you can. Try to stay positive for things always change.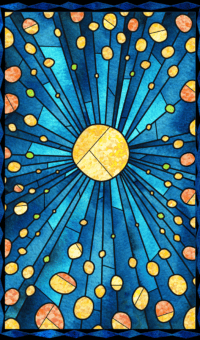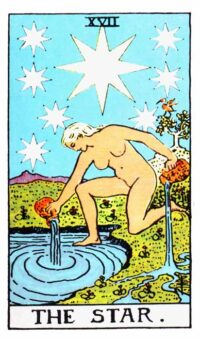 When the Star card appears, you are likely to find yourself feeling inspired. It brings renewed hope and faith and a sense that you are truly blessed by the Universe at this time. The Star almost always heralds a period of peace and healing and embodies the peaceful and creative spirit of the sign Aquarius. The Star will be especially encouraging if you have just come from a difficult period, or a strong opposition, or a major setback. This card may come after a tough time, and brings with it the message that there is Peace on its way to you It's a sign that you will regain what you lost if you will just have faith in yourself.
The Star Card, when Reversed, reveals that you may be experiencing a lack of spontaneity or false hopes. You may also be trying to overcome psychological problems. Not everything is as it feels at first. You might feel suffocated by the weight of hopelessness, but that doesn't mean there is no hope. Don't get stuck in negativity. You might find it difficult to see the bright side of life but it is still there. It is important to keep your head up because you must think positive at this moment to get ready for the brighter future that is coming. Don't lose hope, love will come to you when you expect it least.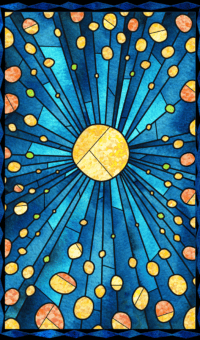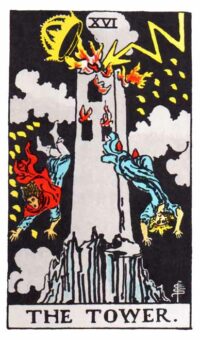 The Tower Card has a tower, burning on top of a mountain, and two figures jumping to safety. It represents how trapped you are feeling of a certain situation but don't feel like you have the inner strength to bring about the change. This card represents a sudden wake up call in your life. It's time to figure out what is not working for you. You are stronger than you think you are and very able to sort out what you fear. Once you free yourself of all the negative, you will be much wiser and better informed to continue on your journey.
When The Tower Reverses, it signifies an end to your difficulties, something that was thought to be devastating, turns out to be a false alarm. You may also have a situation that seemed to be collapsing, but instead of accepting it, letting go and moving on, you continue to work on it and things seem to be getting better. But if you have ignored a warning of something negative to come, it will approach from a different angle the next time and needs to be handled. Don't put things off any longer, do your best to solve an important issue. One step at a time will help you fix this.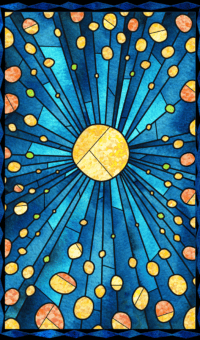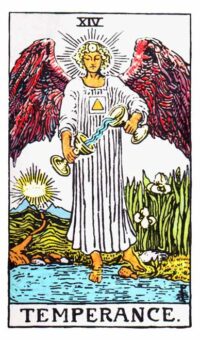 The Temperance Card has a Winged Angel, dressed in a white gown, and is pouring water from one cup to another. She is showing you the importance of having balance within your life. The bright sunshine behind the Angel signifies that the troubles of the past are behind you. Anything you might be going through at the moment is engulfed in a calming and soothing energy, thanks to this Winged Angel. Temperance is not a card of action, it is a time to be still and thankful for all the goodness that has come your way. This Winged Angel is your Guardian Angel and they have your back. Good things are coming your way.
When the Temperance Card Reverses, it shows that your life is out of balance. You don't seem to be learning from the lessons and experiences that have come your way. Why do you keep making the same mistakes over and over? Are you acting without thinking of the consequences? You are thinking too much of the past, and not living in the present. Choosing to live in the past or the future not only robs you of enjoyment today, but it also robs you of truly living. The only important moment is the present moment. Trust your Angel!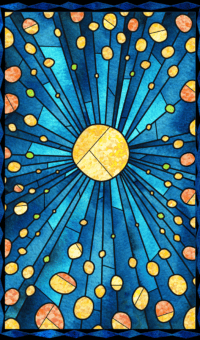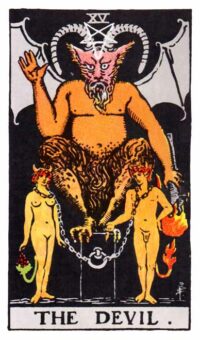 The Devil sits, half beast, half man, on a perch in a black room. He has the head of a horned goat. This card's appearance is your wake up call. You are hooked into something and may not even realize it. It could be the mindset of being a victim, or it could be the need to have a buzz before facing the day. The Devil card forces you to ask yourself if you are really taking responsibility for your actions or if you are just blaming a scapegoat like the Devil. The Devil card is often associated with clouds of chaos, confusion and disorder.
In Reverse, the Devil card represents breaking free from bondage and limitations. A Reversed Devil denotes someone who is confronting their demons and methodically fighting back. Someone who is recovering from addiction or trying to rehabilitate their former wild ways is a perfect example of the reverse Devil card. Once The Devil Reverses, it indicates that you are taking the necessary steps to free yourself from a restricting situation. You are beginning to think for yourself again and deciding your own path.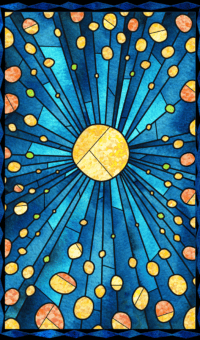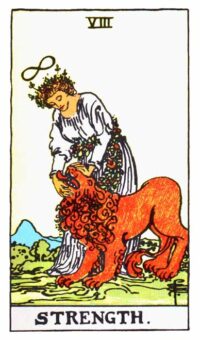 The Strength Card is a symbol of inner power and, of course, strength. It is a very positive card if you are fighting illness or recovering from injury. It is the Major Arcana card of inner strength. It represents mastering raw emotions in order to bring calm to yourself or a situation. It is similar to the Chariot in that it represents overcoming challenges. The Strength card also refers to inner challenges. It's important to stay on top of your Karma connections. When you see this card, know that a guardian angel is in your corner to help you master the lions of the world that you need to, in order to experience victory.
The Strength Card, when Reversed, is all about struggles with inner strength. You are withdrawing from society because of the unhappiness or depression you feel and think that people are the reason why you feel sad. Everyone seems to be happy or excelling in every aspect of life while you are stagnating. Things aren't always as they appear. You must remember that you have a lot to be grateful for and that you should make a point to count your blessings. Appreciating what you currently have in hand is key to opening yourself up for more. You hold more strength and resilience than you give yourself credit for – so, be kind to yourself.