Free Tarot Card Reading from Lunar Princess: Tarot decks contain 78 cards, 22 of which are referred to as the Major Arcana and depict the major changes on our path through life. The remaining 56 cards, known as the Minor Arcana, expand on these themes. In a Reading, there are 78 cards and each card has 2 representations, upright and reversed, for a total of 156 possible cards available for your reading.
Your simple and Free Tarot Card Reading is below. The deck was shuffled when you arrived on this page. Just flip each card one at a time. Random "Upside Down" cards can appear at anytime. An "Upside Down" card gives an alternate reading. Your reading is interpreted differently depending on the order of the cards. Check below the cards for this personal interpretation.
Click each Tarot Card to reveal it, then click again to see the description. Match to the Card Position Below. Enjoy!
Your Free Tarot Card Reading: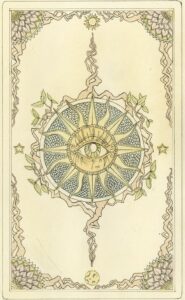 The Five of Cups Tarot Card depicts a figure that is wearing a black cloak. The person hides his face in what seems to be despair. It could be a sign of not appreciating what you have in life or possibly avoidance of something yet to come. It is a card of Loss. Every loss opens new possibilities for growth because every loss initiates change. Loss hurts because it is our emotional resistance to change, no matter how much we accept intellectually that we must go with the flow. It is telling you to move on to a better and more positive mindset and start living the life that you should be living.
The Five of Cups Reversed has you starting to recognize the overall value of the painful experiences you have had in your life. You are seeing that the suffering and grief that you endured gave you strength and resilience. A time of sorrow is coming to an end. The three spilled, empty cups before you is changing for the better and the two full ones behind you are cups of happiness. As it is Reversed, you are beginning to see the possibilities of romance in your life and you are now able to forgive others for the pain they have caused you. Improvements in your life are coming soon.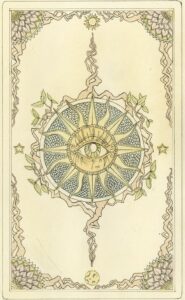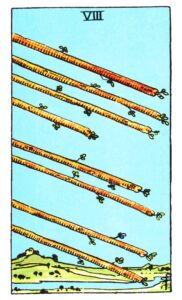 The Eight of Wands indicates major changes, movements and internal alignment. In this card we see eight Wands hurtling through the sky as they cross water from one body of land to another, so travel is obviously suggested here. The skies are bright and clear. Each of the Wands depicted symbolically represents a project, issue, job or demand that the Wands are famous for collecting. The Eight of Wands brings Speed, it brings Action, it bring Movement. Let us hope you got some good sleep and are eating well for you are going to be very busy. If you are single, then you will find yourself suddenly in big demand.
When the Eight of Wands Reversed appears, it has you feeling very frustrated and irritated. You know what you want and where it is but no matter what you do, you just seem to continuously run into problems of one sort or another. People accuse you of being impulsive or too hasty, which will make you want to explode. You are going nowhere fast and precious time is ticking by. The Eight of Wands Reversed may suggest having to say goodbye to your holiday romance as your charter plane takes off, returning you home and to your normal life once again.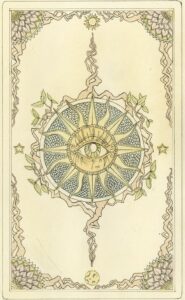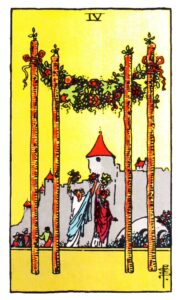 The Four of Wands represents homecoming, relaxation, Joy and harmony. Two richly dressed female figures stand in front of the castle, framed in the garlanded entrance. Their floral headpieces are in keeping with the foliage of the garland, suggesting effort in creating a look or style for the occasion. The Four Wands planted in the ground give an impression of strength and stability. It is time to go shopping for glamorous outfits, for you are going somewhere special. When the Four of Wands appears in your reading, it brings with it a great sense of Joy, excitement and contentment. It indicates that you are entering a very stable and prosperous period in your life.
When the Four of Wands Reversed appears in your reading, it represents the time when you leave the family home for the first time to make it on your own. It can be an exciting time but also a time of insecurity and instability. You feel a strong sense of not belonging and this may be because you choose not to. You may be quite a loner, keeping to yourself and avoiding contact with neighbors or getting involved in community affairs. You need a holiday badly but are so bogged down with work or family obligations that you do not have the freedom to go. In relationships, it indicates a lack of depth.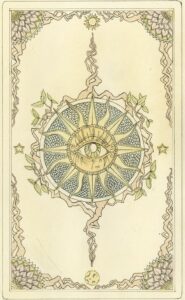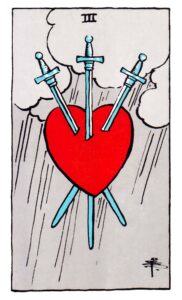 The Three of Swords symbolizes sorrow, grief and heartbreak. The pain experienced by this Three causes confusion and bewilderment (symbolized by the gray clouds) as it can make people unaware. The torrential rain in the background symbolizes the flow of tears we find impossible to stem when our heart is broken. We will all encounter the energies of the Three of Swords at some stage in our life for we will all experience loss, sadness or disappointment on some level. In a relationship, the Three of Swords suggests heartbreak and conflict. Separation and despair could leave your heart torn apart.
As storms are known to clear the air, the clouds no longer dominate the background when this card Reverses, so hang in there as you are nearly over the worst of it. In the Reversed Three of Swords, the heart reverses and the Swords begin to fall out allowing much-needed healing to take place. The pain that has been acute for so long will weaken and the constant flow of tears will soon be a trickle for you have allowed your heart to heal. If you have been badly hurt in the past, this Reversed card suggest that you are avoiding relationships for fear of drawing further pain and disappointment to yourself. You must learn to trust again.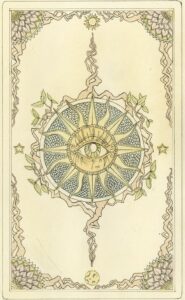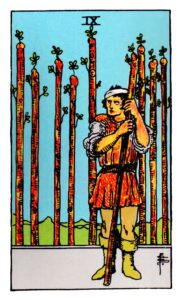 The Nine of Wands represents courage, persistence and resilience. The Figure in this Card looks as if he has been caught off guard. He looks startled and surprised by someone or something that has happened. He is expecting to be attacked at any moment and must be ready to defend himself. There is a sense of anxiety here and an expectation of trouble on the horizon. This may be new trouble or the return of troubles from the past. When referring to relationships, The Nine of Wands indicates that you are very wary of relationships and may indeed have been hurt in the past. It is time to start afresh and trust more.
When the Nine of Wands Reverses, we can see the soldier who continues to guard his fortress or post, poised and ready for attack, from an enemy that is never going to appear. You must retreat from the battle ground instead of making a last stand. You have no fight left in you or have decided that the battle is of no importance and a waste of time. You need to step back and view the situation for what it really is. In relationships, it takes two to tango and if you keep tangoing with the wrong people, people who do not dance to the same rhythm as you, then your are bound to get your toes trodden on. It is time to move on.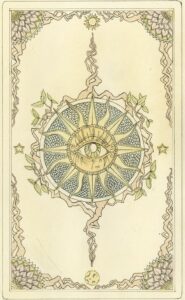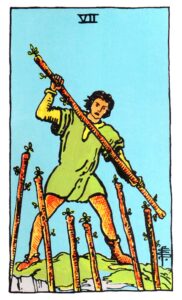 The Seven of Wands represents challenge, competition, protection and perseverance. The Seven of Wands is a Card of tenacity and standing your ground. There may be many who seek to take your position from you, which can highlight strong rivalry or competition in your life. Everyone seems to be out to get you or is set against you. Step back from this situation and have a good think about it. You may be getting worked up over nothing or have let your imagination get the better of you. When the Seven of Wands appears, it may also be a sign that your relationship is disapproved of by friends and family. Go with your heart!
When the Seven of Wands Reversed Card appears, it can go two ways. You can expect serious challenges, but don't expect to win for the odds are against you. Or those who have been challenging you either back off or a resolution is found. Don't enter battles unless you have good cause to and have the stamina to last the course. The pressure of a relationship could be getting on top of you and you may feel like you have lost your personality and identity. It can also herald a new dawn for you in your relationship, if you have been locked into battle and confrontation as the door to communication and compromise finally opens.
Your Tarot Card Reading, by Each Tarot Card Position
Right now how you feel about yourself.
Your current desires.
Fears
Forces in your favor.
Forces against you.
Outcome.
The heart of the Tarot is the Major Arcana. These cards, which are often referred to as the "trump cards," are the most powerful in the deck. They deal with major issues in life, rather than the more mundane ups and downs of everyday existence. The Minor Arcana makes up the bulk of the deck. There are fifty-six Minor Arcana cards in a standard deck, divided into four different suits of fourteen cards each:
The word "Arcana" means "secrets." The Major Arcana cards reveal major secrets. These cards contain: Suit of Cups, Suit of Pentacles, Suit of Swords and Suit of Wands. The fourteen cards in each suit are numbered Ace through Ten, plus the Court Cards: Page (Princess), Knight (Prince), Queen, and King. Usually upright Tarot cards represent people, energies, and situations that are happening around you, impacting your life from the outside. When a Tarot card is Reversed, however, its meaning can change to one of internal influence.
When Tarot cards are shuffled or moved about, they can show up upside-down in a reading. The Reversed Tarot Card simply means its powers are weakened or blocked by something. The Reversed Arcana cards mean that you haven't yet learned the lesson related to that card.
Within the Minor Arcana you'll find a division of the cards into four basic suits. They are:
Wands: The focus of this suit is on action and personal development. Wands have a wonderful love of life and a bright sunny disposition motivating all around them. They love to be center stage and will be found as the life and soul of most parties. They love drama and have a tendency to develop huge egos. They often carry the belief that life revolves around them. When a Wand Card appears Reversed, too much energy is being expended for little reward. There may be too much action with not enough thought, and travel with no purpose.
Cups: This suit mainly pertains to matters of love. Cups people approach life through their feelings. The Cups deal with love, both giving and receiving it. Cups types are gentle and soft and show compassion and understanding for their fellow human being. They are easily hurt. Their imaginations can run wild on them if they dwell on worries or problems for too long. For Cups types, a broken heart takes an extraordinary long time to heal. The Cups in their Reversed state find it hard to tap into their creative channels and experience blocks of all kinds. Their interest with the spiritual and psychic world can become an obsession.
Swords: This suit centers on life changes and conclusions. Swords deal with how we communicate and express ourselves in the world. Their realm is the power of the spoken and written word so Sword people certainly love to talk and make excellent writers or bloggers. The Swords can be very friendly, great conversationalists at dinner parties and will generally be there for you in a crisis with their level-headed and logical manner saving the day. The Reversed Sword likes to get their own way even if it means forcing it onto others or through intimidation and bullying. They can be extremely controlling and aggressive especially in relationships
Pentacles: The focus of this suit is on rewards, including personal comforts and money issues. A Pentacle is a five-pointed star with a single point upright. Pentacle types love possessions and luxury and often surround themselves with beautiful things, such as clothes, jewelry, cars, houses, etc. They are hard workers who are prepared to put the effort in for as long as it takes. The Reversed Pentacle can be controlling and possessive with their partner. Money can be withheld for any perceived bad behavior. In fact they often use money as a weapon in their relationships. They can be mean with not only their money but also their emotions.
All the cards in a Tarot deck have their own unique traditional meanings and connotations, which are deciphered and interpreted as a part of the fortune-telling experience. These Cards are going to show you things in a way that is different than what you are imagining, explaining to you an aspect of your life that you probably aren't looking at.
The cards, themselves, don't create our future. They just help point us in the right direction. The messages of the cards allow us to reflect on a particular situation from many different vantage points, seeing angles we wouldn't otherwise see, and helping us choose the best course of action.
Did you find this Tarot Card Reading enlightent?
More on Tarot Cards…
Free Tarot Card Reading – History of Tarot
The word "Tarot" is said to be derived from an Italian word "Tarocchi" which depicts playing cards. And from here the history of tarot cards began.
According to ancient texts, Tarot cards shows its first presence as playing cards in northern Italy in the 1440 century. The cards were then used only for playing and were not used for divine readings.
These cards were engraved with images and titles with no numbers unlike the present set of playing cards. At times, the cards were customized and only be seen in the games of wealthy families. One such example is the tarot deck of Milan's Visconti Family where the triumph cards were painted for members of the nobility.
Read More: Where do Tarot Cards Come From?
There are many myths surrounding the origin of the Tarot, and theories that the cards were invented in ancient Egypt, India or China are often expressed. These ideas owe more to a sense of romance or wishful thinking than to any hard evidence, and one popular myth, expounded in Le Monde Primitif (1781) by Court de Gebelin, is that the cards were brought from India by the Gypsies (who, as their name suggests, were originally thought to have come from Egypt). The true origin of the Tarot cards remains a mystery, but what is known is that cards similar to those we have today first appeared in Italy and France in the late 14th century.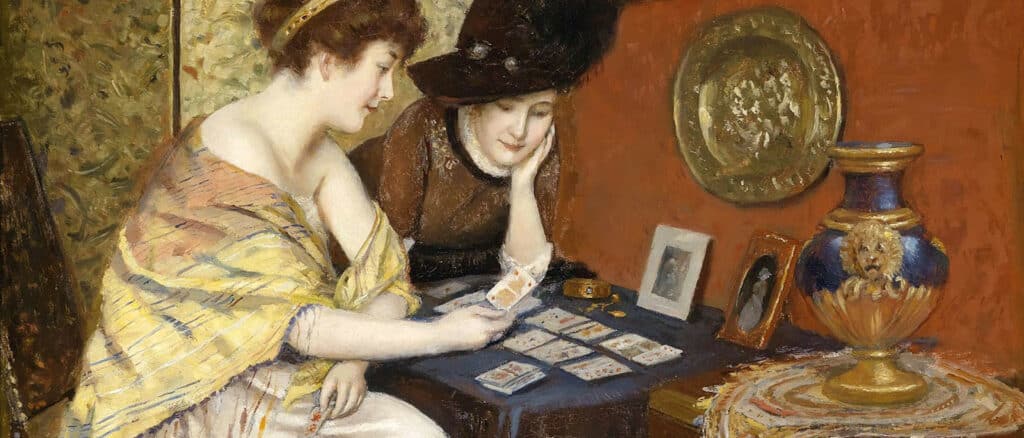 The Earliest Tarot Cards
The earliest known cards still in existence date from 1392, and of these only 17 remain. It is believed that they were painted for Charles VI of France by Jacquemin Gringonneur, but it is possible that they are actually less ancient and are Tarocchi of Venice cards from the middle of the 15th century. The earliest surviving full deck was painted in 1422 by Italian artist Bonifacio Bembo. This is known as the Visconti deck after the family name of its commissioner, the Duke of Milan.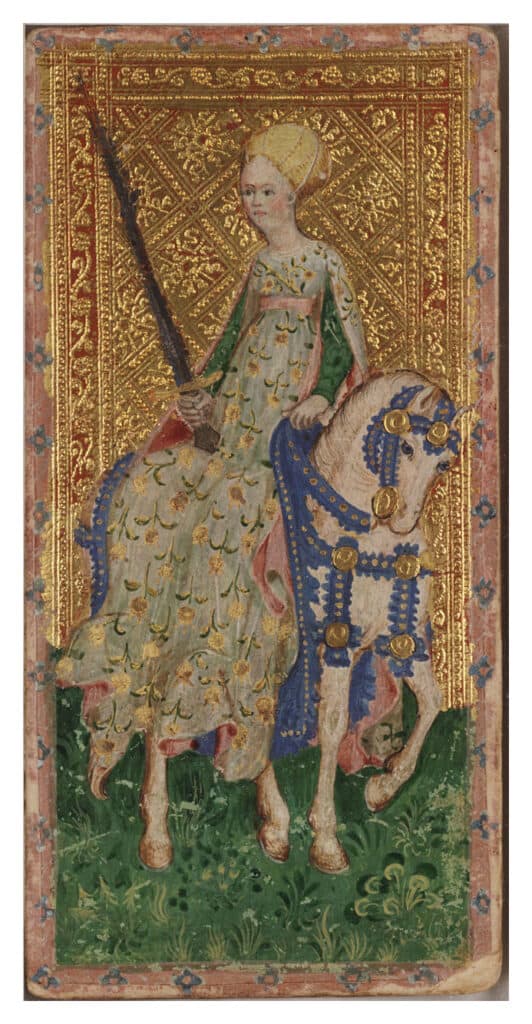 Major Arcana Tarot Card Deck
The Major Arcana cards are the most recognizable and impactful cards in a Tarot deck. These 22 cards represent situations we all face in the grand scheme of life, with each carrying specific messages of perspective and guidance to help you in times of need. While the Minor Arcana cards focus on the everyday actions and decisions you must face, these Major Arcana cards reveal messages about the bigger picture of your life and its long-term direction.
Though each of the Major Arcana cards stands alone with its own deep meanings and influences, these 22 Tarot cards also tell a story. The first card, The Fool, is the main character of this story, and his experiences as he learns, grows, and makes his way through life are represented by the 21 cards that follow. This storyline is a great description of the accomplishments, setbacks, and lessons we all learn as we go through the trials and tribulations of our lifetime, growing into whole, complete beings by the end of our journey.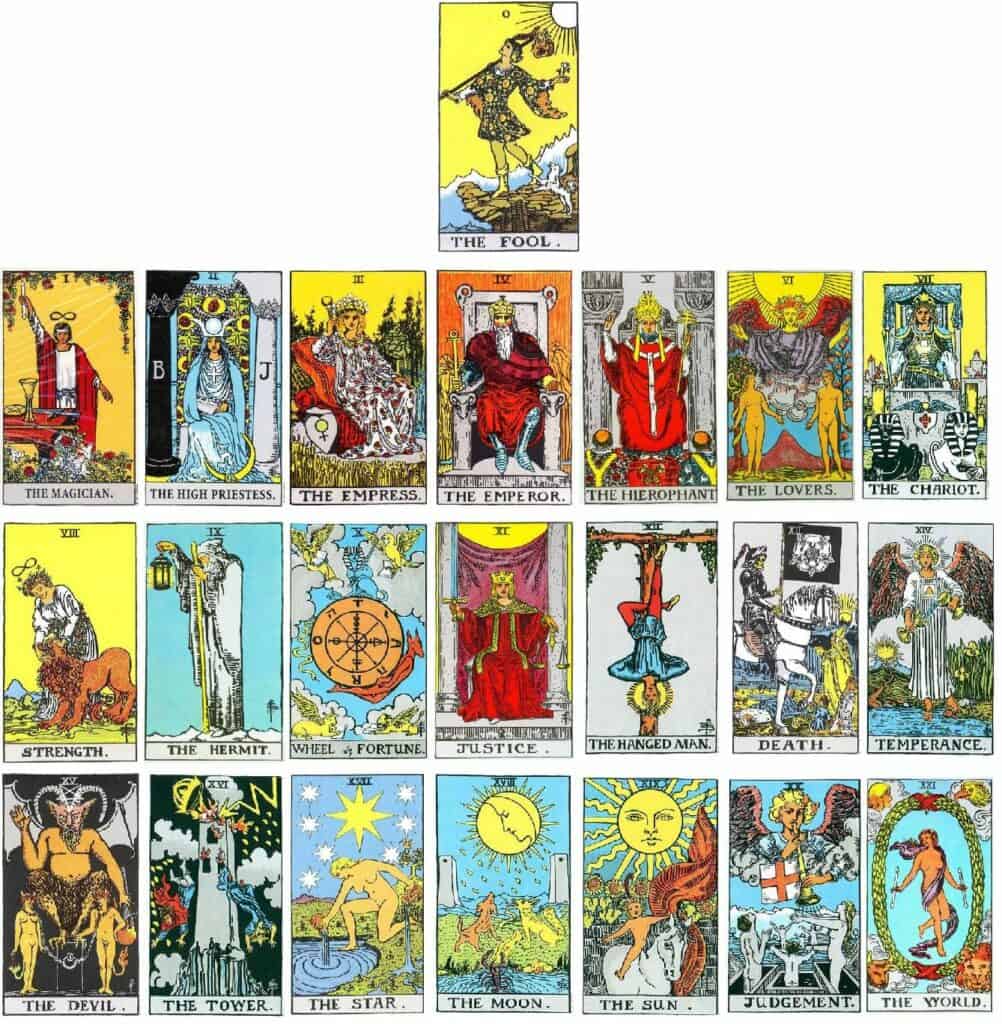 Tarot Card Readings
You don't have to be someone who believes in Tarot to benefit from a reading, usually the cards will make a believer out of you. No one has really been able to explain why the cards are able to divine the future.

Everyone has something in their lives they need support for. Sometimes it may seem that there is no solution to be found. But now that you have the answer to the question of what is Tarot Card Reading, you have the key to open that door.

If Tarot is a form of psychic reading that you feel close to, you should have a reading done at least once during the four major seasons of the year, and even weekly readings can be beneficial. They can help you get an outlook on the things to come and actions that you may need to take to prevent disaster.
How is a Tarot Card reading done?
The Tarot card readers deals a spread of cards. The reader interprets the cards based on their position and the meaning of the card.
How many cards are used in a Tarot Card reading?
There are many traditions that use different amounts of cards in a Tarot Card reading, but 10, 3, and 6 card spreads are very common.
Where did Tarot Cards come from?
Most likely, Tarot Cards developed formally in Western Europe in around the 14th century with influences from Hungary and Egypt.