Free Tarot Card Reading from Lunar Princess: Tarot decks contain 78 cards, 22 of which are referred to as the Major Arcana and depict the major changes on our path through life. The remaining 56 cards, known as the Minor Arcana, expand on these themes. In a Reading, there are 78 cards and each card has 2 representations, upright and reversed, for a total of 156 possible cards available for your reading.
Your simple and Free Tarot Card Reading is below. The deck was shuffled when you arrived on this page. Just flip each card one at a time. Random "Upside Down" cards can appear at anytime. An "Upside Down" card gives an alternate reading. Your reading is interpreted differently depending on the order of the cards. Check below the cards for this personal interpretation.
Click each Tarot Card to reveal it, then click again to see the description. Match to the Card Position Below. Enjoy!
Your Free Tarot Card Reading: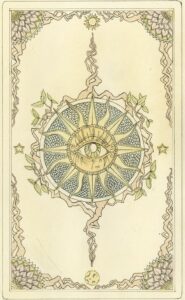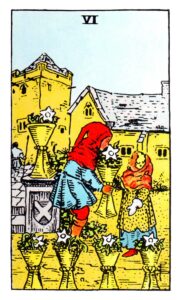 When the Six of Cups appears, it is all about the past, future, and our memories. It represents the emotions attached to growing up. The Six of Cups Tarot card is a call to reconnect with our inner child. The presence of children on the card has led it to sometimes be associated with innocence, childhood or nostalgia for the past. This is a card of happy memories, platonic relationships, unconditional love and reunions with family and friends from the past. Often, this card will signify the re-appearance of an old lover in your life. Think long and hard before re-starting an old romance.
When the Six of Cups Reversed appears, we might need a push to abandon certain childish attitudes that are preventing us from moving forward with our projects and relationships. The Reversed Six of Cups reminds us that we must stay focused on the present and the future instead of getting or staying "lost in the good old days." Live for today. If single and longing for love, the time has come to look at yourself and what you are doing (or not doing) to bring that love into your life. Give yourself a fresh start and put all those bothersome, negative memories behind you. Start the flow of positive energy.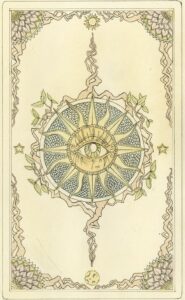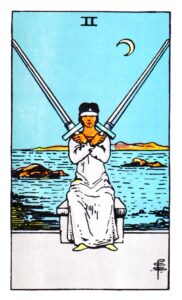 The Two of Swords represents avoidance, situations of difficult decisions and weighing out options. The Two of Swords shows us a woman sitting with her back to a body of water. The tide appears to be out. The woman holds two Swords crossed at her heart. The Swords held at this position give us the impression that she is protecting her heart from something. In a relationship, the Two of Swords suggests that you have to make a painful decision causing upset and distress. Your inability to make a decision is part of a master plan to maintain your power. Your plan to gain control should work better than you imagined.
The Reversed Two of Swords has tensions beginning to thaw. There is real potential here to put an end to an age-old argument between friends or family. Once the truth is out in the open, you do not have to carry the burden of pretense anymore and are now free to move on with your life. This may be easier to do than you imagined as you feel a weight lifted off both your mind and heart. If you are currently single, this card can represent your anxiety about dating. Putting yourself "out there" is hard. You will get more comfortable with dating and opening yourself to others with a little practice.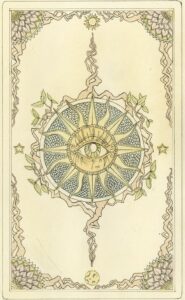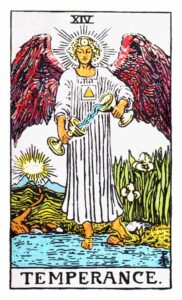 When the Temperance card appears, it signifies balance, peace, patience and moderation. This card brings the message that it may be time to step back a little bit, and exercise some caution on a key area of your life. If you have been consuming too much in the way of gambling, drinking, or substance use, this card is sending the message to curb things back. With issues of money, there is likely to be a good balance between what is going out and what is coming in. However, you are going to have to ask for what you deserve. Have courage and pride, and you will not fail. Travel is on your horizon.
A Temperance Card in reversal may be used as a warning. If you take a certain path, it would lead to turbulence and excess. Temperance reminds us that all things are only good in moderation, and that we must examine in which aspects of our lives we are breaking the balance. If you find yourself excessively doing one thing, shift your energy to focusing on another aspect of your life that would benefit from your attention. In money matters, Temperance reversed indicates that your finances are well-balanced, and that you have the right amount of money coming in and going out every month.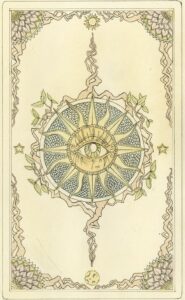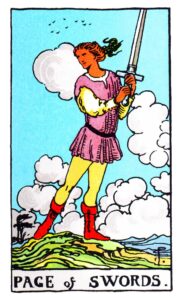 The Page of Swords represents the curiosity for new ideas and finding new ways of communication. The Page was born talking. Their head is full of thoughts, ideas, plans and beliefs. The Page of Swords often highlights the need to be more assertive in your dealings with others and to stand up for yourself. Try to accept others' points of view, without judging them harshly or condemning them. In relationships, the Page of Swords, for all their love of chat and being sociable, does expect privacy and actually enjoys silence and solitude when they get it. This card suggests you have lots of amazing ideas, but they may not be very realistic or practical.
In the Reverse, we may find that this Page of Swords still loves to talk, but the difference now is that he has nothing of any importance to say. It simply might imply shyness and feeling unsure of what to say in social situations. The Reversed Page of Swords shows the need to find something that interests you, and that provides a strong stimulating mental challenge. Deep down you desire love but you really don't have a clue how to go about finding it. Ranting and raving will get you nowhere. More physical exercise is necessary, as the build up of mental energy can become explosive. It's time to get out in nature and take a walk.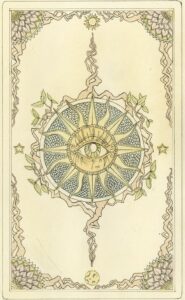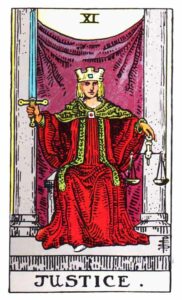 The Justice card is a balance card. It shows that things are going to go your way. Justice is concerned with truth and integrity. If you have treated others with integrity and kindness and not been treated well in return, this imbalance is about to be corrected and the relationship you deserve is coming your way. Legal matters go your way when you see this card. The Justice card is a card of harmony and virtue. It brings a time to stand tall and strong against the things that may be trying to throw you off balance. If you have been wronged, Justice arrives to restore balance and order.
The Justice Card, when Reversed, is all about imbalance. Not everything in life is fair. Sometimes you must make the best of what you are presented with and proceed with caution. Justice deals with the idea of Karma and the law of cause and effect, stating that all events, and all people, are connected through Karma. Resist the urge to fight back or seek vengeance when you are wronged. Take responsibility for your own actions and decisions. Karmic Justice will take care of the rest. The Justice Card represents balance, fairness, and the inescapable consequences of our actions.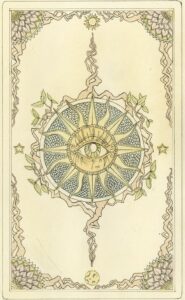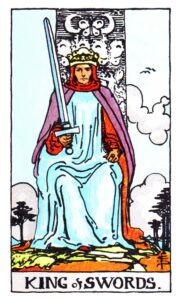 The King of Swords symbolize mental clarity, authority, truth and intellectual power. The King of Swords sits on a structure which appears more like a pillar than a regal throne. His crown depicts a winged spirit, connecting this man to the element of Air. This King in a reading may be telling you that you must use your head in situations and not let your emotions cloud your good judgment. This card suggests that someone is giving you clear, sound advice, so don't discount it. But in relationships, the King of Swords does not deal very well with emotions and may not be sensitive to any hurt feelings.
The Reversed King of Swords may suggest weakness and lack of power. The King may have no say over anything in his life and is controlled by others. He is suggesting the need to retreat to find mental stability once again. A Reversed King usually indicates someone who either isn't leading well or who isn't getting the respect he or she deserves. It also represents a person who has been so set in their ways for so long that it almost feels impossible to change them. They could be taking life too seriously and need to lighten up. The King of Swords sometimes shows up Reversed when a person is holding back truths they should be telling.
Your Tarot Card Reading, by Each Tarot Card Position
Right now how you feel about yourself.
Your current desires.
Fears
Forces in your favor.
Forces against you.
Outcome.
The heart of the Tarot is the Major Arcana. These cards, which are often referred to as the "trump cards," are the most powerful in the deck. They deal with major issues in life, rather than the more mundane ups and downs of everyday existence. The Minor Arcana makes up the bulk of the deck. There are fifty-six Minor Arcana cards in a standard deck, divided into four different suits of fourteen cards each:
The word "Arcana" means "secrets." The Major Arcana cards reveal major secrets. These cards contain: Suit of Cups, Suit of Pentacles, Suit of Swords and Suit of Wands. The fourteen cards in each suit are numbered Ace through Ten, plus the Court Cards: Page (Princess), Knight (Prince), Queen, and King. Usually upright Tarot cards represent people, energies, and situations that are happening around you, impacting your life from the outside. When a Tarot card is Reversed, however, its meaning can change to one of internal influence.
When Tarot cards are shuffled or moved about, they can show up upside-down in a reading. The Reversed Tarot Card simply means its powers are weakened or blocked by something. The Reversed Arcana cards mean that you haven't yet learned the lesson related to that card.
Within the Minor Arcana you'll find a division of the cards into four basic suits. They are:
Wands: The focus of this suit is on action and personal development. Wands have a wonderful love of life and a bright sunny disposition motivating all around them. They love to be center stage and will be found as the life and soul of most parties. They love drama and have a tendency to develop huge egos. They often carry the belief that life revolves around them. When a Wand Card appears Reversed, too much energy is being expended for little reward. There may be too much action with not enough thought, and travel with no purpose.
Cups: This suit mainly pertains to matters of love. Cups people approach life through their feelings. The Cups deal with love, both giving and receiving it. Cups types are gentle and soft and show compassion and understanding for their fellow human being. They are easily hurt. Their imaginations can run wild on them if they dwell on worries or problems for too long. For Cups types, a broken heart takes an extraordinary long time to heal. The Cups in their Reversed state find it hard to tap into their creative channels and experience blocks of all kinds. Their interest with the spiritual and psychic world can become an obsession.
Swords: This suit centers on life changes and conclusions. Swords deal with how we communicate and express ourselves in the world. Their realm is the power of the spoken and written word so Sword people certainly love to talk and make excellent writers or bloggers. The Swords can be very friendly, great conversationalists at dinner parties and will generally be there for you in a crisis with their level-headed and logical manner saving the day. The Reversed Sword likes to get their own way even if it means forcing it onto others or through intimidation and bullying. They can be extremely controlling and aggressive especially in relationships
Pentacles: The focus of this suit is on rewards, including personal comforts and money issues. A Pentacle is a five-pointed star with a single point upright. Pentacle types love possessions and luxury and often surround themselves with beautiful things, such as clothes, jewelry, cars, houses, etc. They are hard workers who are prepared to put the effort in for as long as it takes. The Reversed Pentacle can be controlling and possessive with their partner. Money can be withheld for any perceived bad behavior. In fact they often use money as a weapon in their relationships. They can be mean with not only their money but also their emotions.
All the cards in a Tarot deck have their own unique traditional meanings and connotations, which are deciphered and interpreted as a part of the fortune-telling experience. These Cards are going to show you things in a way that is different than what you are imagining, explaining to you an aspect of your life that you probably aren't looking at.
The cards, themselves, don't create our future. They just help point us in the right direction. The messages of the cards allow us to reflect on a particular situation from many different vantage points, seeing angles we wouldn't otherwise see, and helping us choose the best course of action.
Did you find this Tarot Card Reading enlightent?
More on Tarot Cards…
Free Tarot Card Reading – History of Tarot
The word "Tarot" is said to be derived from an Italian word "Tarocchi" which depicts playing cards. And from here the history of tarot cards began.
According to ancient texts, Tarot cards shows its first presence as playing cards in northern Italy in the 1440 century. The cards were then used only for playing and were not used for divine readings.
These cards were engraved with images and titles with no numbers unlike the present set of playing cards. At times, the cards were customized and only be seen in the games of wealthy families. One such example is the tarot deck of Milan's Visconti Family where the triumph cards were painted for members of the nobility.
Read More: Where do Tarot Cards Come From?
There are many myths surrounding the origin of the Tarot, and theories that the cards were invented in ancient Egypt, India or China are often expressed. These ideas owe more to a sense of romance or wishful thinking than to any hard evidence, and one popular myth, expounded in Le Monde Primitif (1781) by Court de Gebelin, is that the cards were brought from India by the Gypsies (who, as their name suggests, were originally thought to have come from Egypt). The true origin of the Tarot cards remains a mystery, but what is known is that cards similar to those we have today first appeared in Italy and France in the late 14th century.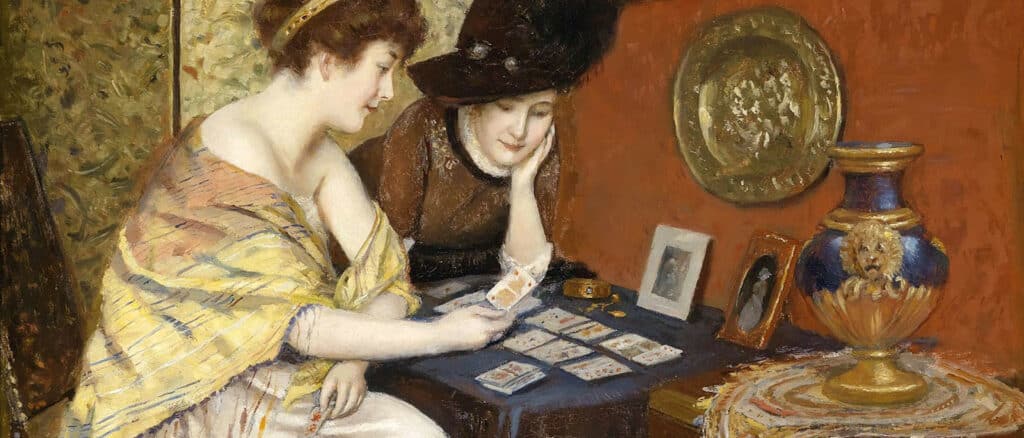 The Earliest Tarot Cards
The earliest known cards still in existence date from 1392, and of these only 17 remain. It is believed that they were painted for Charles VI of France by Jacquemin Gringonneur, but it is possible that they are actually less ancient and are Tarocchi of Venice cards from the middle of the 15th century. The earliest surviving full deck was painted in 1422 by Italian artist Bonifacio Bembo. This is known as the Visconti deck after the family name of its commissioner, the Duke of Milan.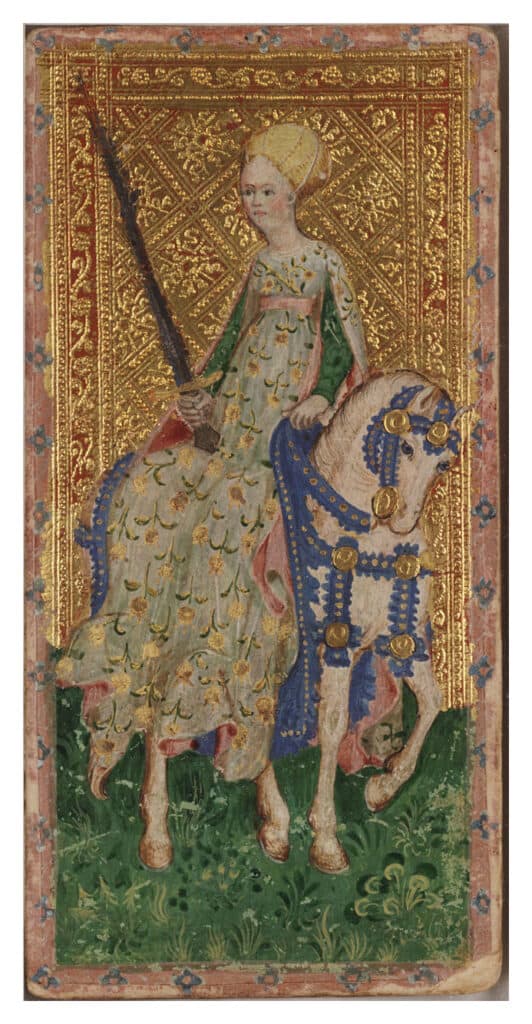 Major Arcana Tarot Card Deck
The Major Arcana cards are the most recognizable and impactful cards in a Tarot deck. These 22 cards represent situations we all face in the grand scheme of life, with each carrying specific messages of perspective and guidance to help you in times of need. While the Minor Arcana cards focus on the everyday actions and decisions you must face, these Major Arcana cards reveal messages about the bigger picture of your life and its long-term direction.
Though each of the Major Arcana cards stands alone with its own deep meanings and influences, these 22 Tarot cards also tell a story. The first card, The Fool, is the main character of this story, and his experiences as he learns, grows, and makes his way through life are represented by the 21 cards that follow. This storyline is a great description of the accomplishments, setbacks, and lessons we all learn as we go through the trials and tribulations of our lifetime, growing into whole, complete beings by the end of our journey.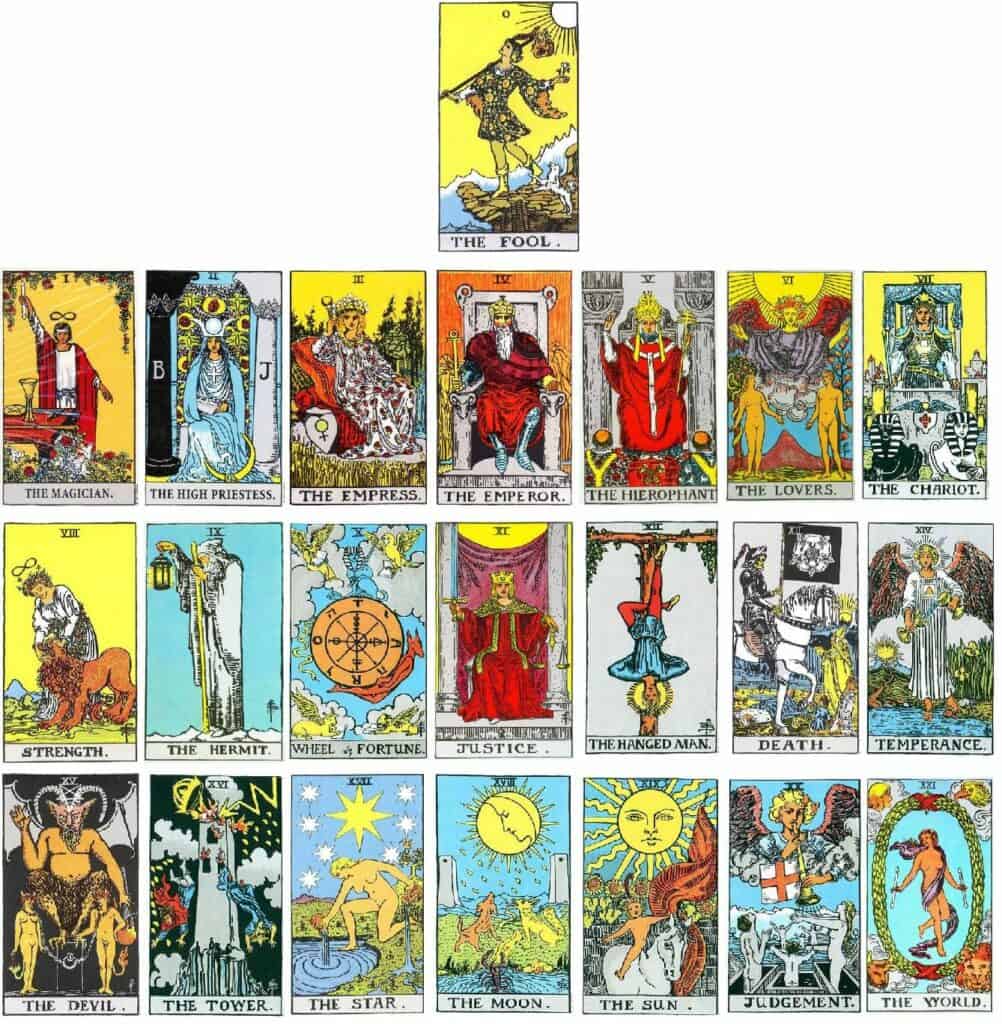 Tarot Card Readings
You don't have to be someone who believes in Tarot to benefit from a reading, usually the cards will make a believer out of you. No one has really been able to explain why the cards are able to divine the future.

Everyone has something in their lives they need support for. Sometimes it may seem that there is no solution to be found. But now that you have the answer to the question of what is Tarot Card Reading, you have the key to open that door.

If Tarot is a form of psychic reading that you feel close to, you should have a reading done at least once during the four major seasons of the year, and even weekly readings can be beneficial. They can help you get an outlook on the things to come and actions that you may need to take to prevent disaster.
How is a Tarot Card reading done?
The Tarot card readers deals a spread of cards. The reader interprets the cards based on their position and the meaning of the card.
How many cards are used in a Tarot Card reading?
There are many traditions that use different amounts of cards in a Tarot Card reading, but 10, 3, and 6 card spreads are very common.
Where did Tarot Cards come from?
Most likely, Tarot Cards developed formally in Western Europe in around the 14th century with influences from Hungary and Egypt.